There is an ongoing wave of browser hijacks that plagues computers in a bid to generate traffic monetization revenue through fraudulent means. The PUP (Potentially Unwanted Program) referred to as chromesearch.club is the latest link in this chain that seems to last unstoppably. Preceded by such infections as chromesearch.win and chromesearch.today, the culprit in question is quite a nuisance.
What is the chromesearch.club virus?
When one's web surfing gets out of hand, there can be quite a few reasons for it. Redundant cookies or cache are most commonly the things to blame for crashes and slowdowns. The acting up might assume a somewhat different form, though. The browser can resolve a wrong site for the homepage, new tab and default search for ostensibly no apparent reason. This is an unequivocal indication of a browser hijack, in which case a malicious add-on, rogue helper object or plugin is the troublemaker. This is exactly what happens if the chromesearch.club PUP infiltrates a Windows machine. It changes the Internet navigation settings defined by the user and does not ask for approval when doing it.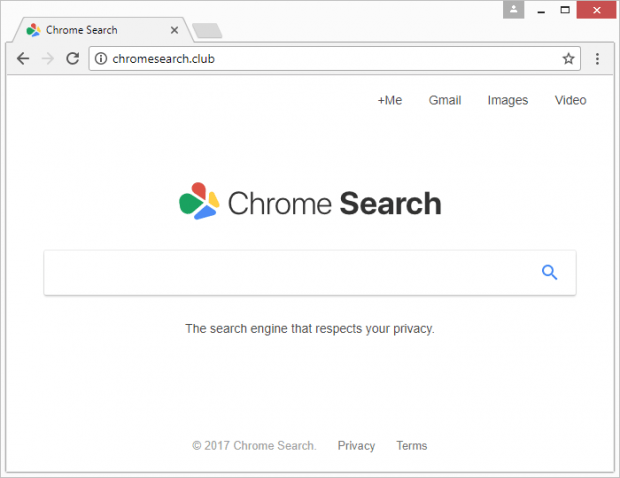 The adverse consequence of this interference is a loop of browser hits to chromesearch.club triggered in the following cases: when the infected user opens their preferred browser, when they trigger a new tab, and every single time they look up some keywords by typing them in the address bar. The landing page itself looks like your garden variety search provider. It's titled Chrome Search, includes a search box, a few links pointing to email, images and video search, and a logo that says, "The search engine that respects your privacy". The latter, incidentally, is quite sarcastic of the crooks. The rogue extension running in the background poses risk to the victim's privacy as it keeps track of their browsing history. The thing underlying this data harvesting is all about targeted ads delivery. When the plagued person performs searches via this service, they get results mixed up with sponsored content. Online advertisements are at the forefront of ecommerce, so the proprietors of this campaign earn a pretty penny this way.
The chromesearch.club hijacker enters computers via a technique as old as freeware. It's called bundling. The nuts and bolts of this distribution tactic revolve around incorporation of malicious items into installation clients for various free applications. People tend to pay attention to the main program being downloaded, so they may overlook the extras going in the package. Keep that in mind to avoid this virus and similar threats. If the trespass of the bad code has already occurred and chromesearch.club URL is visited off and on, be sure to use the tutorial below to get rid of the pest and fix the broken browser configuration.
Chromesearch.club hijacker automatic removal
The extermination of Chromesearch.club PUP can be efficiently accomplished with reliable security software. Sticking to the automatic cleanup technique ensures that all components of the infection get thoroughly wiped out from your system.
1. Download recommended security utility and get your PC checked for malicious objects by selecting the Start Computer Scan option
Download Chromesearch.club remover
2. The scan will come up with a list of detected items. Click Fix Threats to get the redirect removed from your system. Completing this phase of the cleanup process is most likely to lead to complete eradication of the infection. However, it might be a good idea to consider ascertaining the hijacker is gone for good.
Remove Chromesearch.club hijacker using Control Panel
Open Control Panel. On Windows XP / Windows 8, go to Add or Remove Programs. If your OS is Windows Vista / Windows 7 / Windows 10, choose Uninstall a program
Chromesearch.club hijacker removal by resetting the affected browser
Please take into consideration that as effective as it is, the procedure of restoring browser defaults will lead to the loss of personalized settings such as saved passwords, bookmarks, browsing history, cookies, etc. In case you are not certain this outcome is suitable despite its obvious efficiency, it's advised to follow the automatic removal method described in one of the previous sections of this tutorial.
Reset Google Chrome
Reset Mozilla Firefox
Click on Help menu and select Troubleshooting Information from the drop-down list, or type about:support in the URL field
Reset Internet Explorer
Verify whether Chromesearch.club hijacker has been completely removed
For certainty's sake, it's advised to repeatedly run a scan with the automatic security software in order to make sure no harmful remnants of this PUP are left inside Windows Registry and other operating system locations.
No ratings yet.