Every ransomware attack is accompanied by a number of distinct indicators of compromise, which are unique for different strains of file encrypting threats. First and foremost, these include the crypto key exchange workflow, the extensions added to victims' files, and things like ransom notes that instruct infected users on data recovery. If the latter IOC encompasses a set of documents named "Decrypt My Files" in TXT, HTML and VBS formats, then the Cerber ransom Trojan is the culprit.
A standstill in the progress of ransomware is more of a utopia rather than something that may occur anytime in the near future, given these threats' unthinkable profitability for malicious cyber actors that distribute them. We have seen crypto viruses rapidly shift toward an affiliate model lately, which was a move that a lot of experts would have found unrealistic just a few months earlier. And now, the newest fancy thing is ransomware that speaks. This feature is built into the code of Cerber, a newcomer to the digital extortion domain. The Trojan encrypts its preys' files beyond regular recovery and offers them to redeem the data by sending 1.24 Bitcoins to the criminals' secure wallet. As bitter as it may sound, paying more than $500 as the ransom is unfortunately the only reliable way to re-access the affected personal files.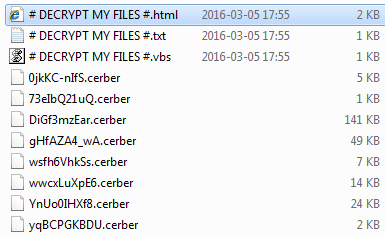 The way Cerber is promoted depends on who actually engages in distributing it. Here's the thing – it is one of the Ransomware as a Service, or RaaS campaigns. This means that random people with bad intensions can get the code of this malware on certain darknet resources and subsequently share the received ransoms with the developer. The most widespread way of serving these pests is through phishing emails with self-extracting archives as attachments. When one is opened, the infection is executed in a matter of seconds. It finds all files on the HDD and the internal network that meet a predefined range of formats. All of these matches then become encrypted with strong AES cipher.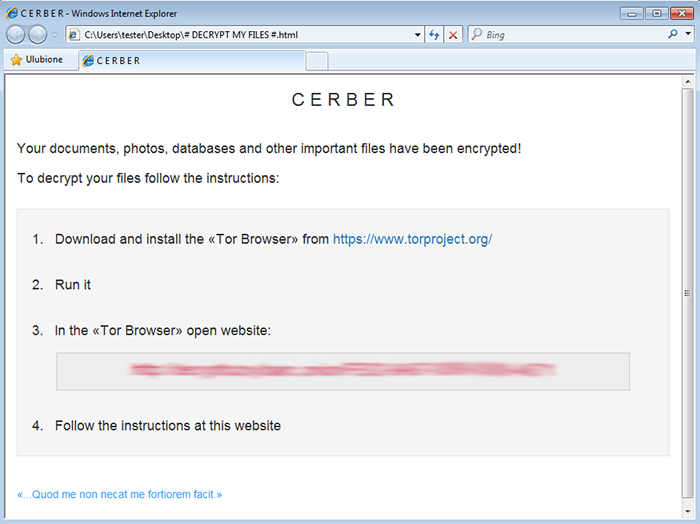 The encoded files are easy to spot: they all obtain the .cerber extension, and the filenames are modified out of all recognition. Taking a look at an arbitrary folder with these, the user should also notice the ransom directions. There are three of them in each directory: # Decrypt My Files #.txt, # Decrypt My Files #.html, and # Decrypt My Files #.vbs. The VBS one produces an audio message with instructions when opened, which sounds like artificial intelligence in action but is in fact a few lines of code.
The Tor gateway link indicated in the recovery guidance points to a site titled "Cerber Decryptor". Victims can select their preferred language and then proceed with the financial part of the hoax. The page also displays a ticking clock that counts down 7 days before the ransom increases. Again, security professionals have not come up with any efficient file restore mechanism so far. A few techniques, though, are worthwhile in terms of recovering some of the frozen data.
Decrypt My Files (Cerber) ransomware automatic removal
Extermination of this ransomware can be efficiently accomplished with reliable security software. Sticking to the automatic cleanup technique ensures that all components of the infection get thoroughly wiped from your system.
1. Download recommended security utility and get your PC checked for malicious objects by selecting the Start Computer Scan option
Download Decrypt My Files (Cerber) ransomware remover
2. The scan will come up with a list of detected items. Click Fix Threats to get the ransomware and related infections removed from your system. Completing this phase of the cleanup process is most likely to lead to complete eradication of the plague proper. Now you are facing a bigger challenge – try and get your data back.
Methods to restore files encrypted by Decrypt My Files (Cerber) ransomware
Workaround 1: Use file recovery software
It's important to know that the Decrypt My Files (Cerber) ransomware creates copies of your files and encrypts them. In the meanwhile, the original files get deleted. There are applications out there that can restore the removed data. You can utilize tools like Stellar Data Recovery for this purpose. The newest version of the ransomware under consideration tends to apply secure deletion with several overwrites, but in any case this method is worth a try.
Download Stellar Data Recovery Professional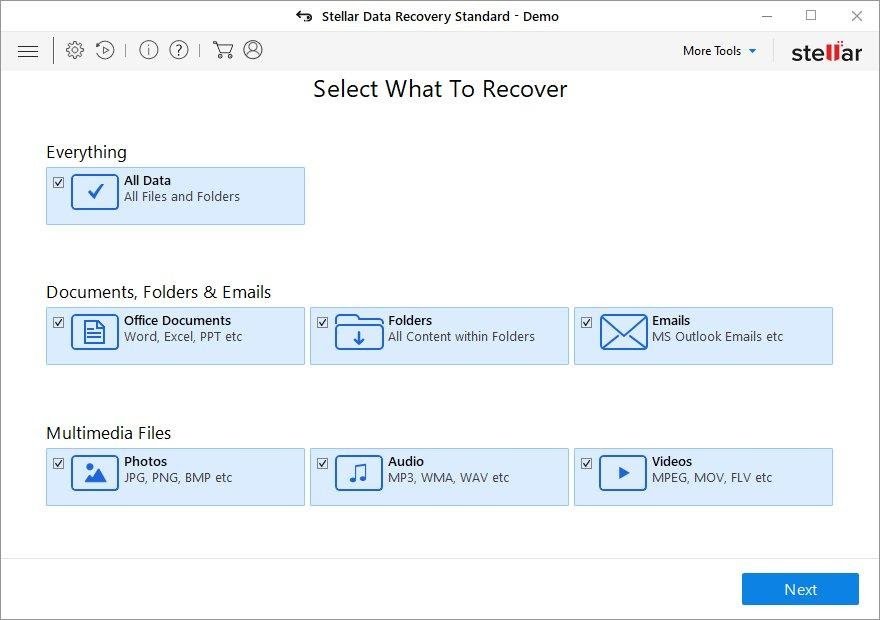 Workaround 2: Make use of backups
First and foremost, this is a great way of recovering your files. It's only applicable, though, if you have been backing up the information stored on your machine. If so, do not fail to benefit from your forethought.
Workaround 3: Use Shadow Volume Copies
In case you didn't know, the operating system creates so-called Shadow Volume Copies of every file as long as System Restore is activated on the computer. As restore points are created at specified intervals, snapshots of files as they appear at that moment are generated as well. Be advised this method does not ensure the recovery of the latest versions of your files. It's certainly worth a shot though. This workflow is doable in two ways: manually and through the use of an automatic solution. Let's first take a look at the manual process.
Use the Previous Versions feature
The Windows OS provides a built-in option of recovering previous versions of files. It can also be applied to folders. Just right-click on a file or folder, select Properties and hit the tab named Previous Versions. Within the versions area, you will see the list of backed up copies of the file / folder, with the respective time and date indication. Select the latest entry and click Copy if you wish to restore the object to a new location that you can specify. If you click the Restore button, the item will be restored to its original location.

Apply Shadow Explorer tool

This workflow allows restoring previous versions of files and folders in an automatic mode rather than by hand. To do this, download and install the Shadow Explorer application. After you run it, select the drive name and the date that the file versions were created. Right-click on the folder or file of interest and select the Export option. Then simply specify the location to which the data should be restored.

Verify whether Decrypt My Files (Cerber) ransomware has been completely removed
Again, ransomware removal alone does not lead to the decryption of your personal files. The data restore methods highlighted above may or may not do the trick, but the ransomware itself does not belong inside your computer. Incidentally, it often comes with other ransomware, which is why it definitely makes sense to repeatedly scan the system with automatic security software in order to make sure no harmful remnants of this ransomware and associated threats are left inside Windows Registry and other locations.
3.33/5 (3)