The technique of browser hijacking bodes really well for cybercriminals, and it has always been that way. The biggest benefits for threat actors engaging in this activity include its semi-legitimacy, rather than outright illegitimacy, and a small amount of resources that need to be invested. All it takes is distribute a rogue browser helper object like Chromesearch.win or its clone Chromesearch.today, sit back and harvest money for auto-generated page visits.
What is the chromesearch.win virus?
Chromesearch.win denotes both the name of a PUP (Potentially Unwanted Program) and the URL of a site serving as the landing page of a large-scale adware campaign going on a rampage as this is being written. As opposed to surreptitious compromises involving rootkits or spyware, the symptoms of the malware predicament under scrutiny are impossible to overlook. A victim's web browser, be it Google Chrome, Mozilla Firefox, Internet Explorer or possibly Microsoft Edge as well, begins acting up in that it reroutes the user to the website at chromesearch.win over and over. The page is titled "Chrome Search" and claims to be "The search engine that respects your privacy", which is a defiant lie.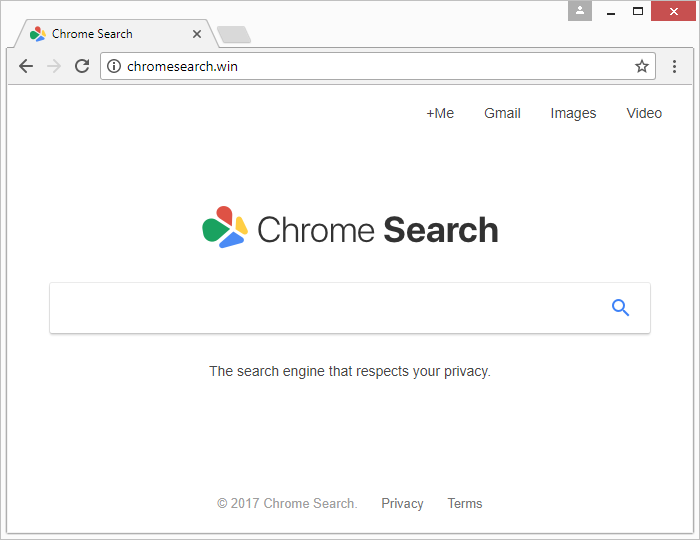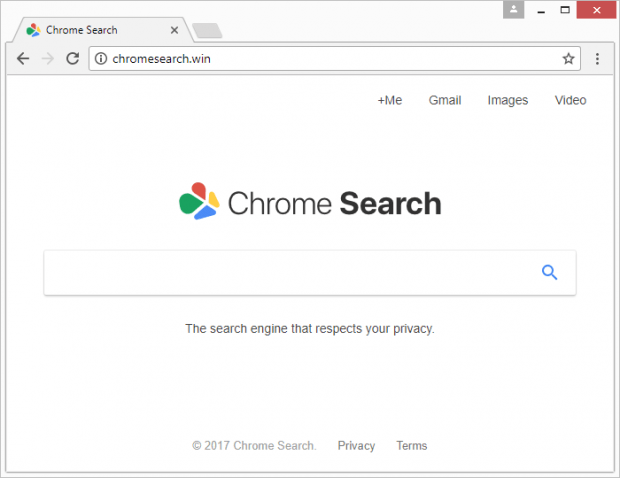 Another adverse effect of the malicious infiltration is a drastic slowdown of the infected browser. The chromesearch.win PUP consumes a great deal of processing resources and traffic, cutting page loading speed down to a crawl and rendering the web browser irresponsive and buggy. The tangible system footprint may quite likely deteriorate overall computer usage experience. So much for the visible impact. On the other hand, an inconspicuous negative upshot of this hijacker's misdemeanor boils down to collecting the victim's personally identifiable information. So going back a few sentences – no, this pseudo search engine does not respect your privacy. The data at risk includes browsing history, saved bookmarks, as well as authentication details for various personal online accounts.
How the malign code injection takes place and what happens on the inside of the system during the chromesearch.win incursion are subjects deserving a separate chapter. The payload of this browser hijacking virus lurks underneath legit-looking application bundles. This distribution mechanism presupposes sneaky cross-promotion of certain programs, including shady ones, alongside regular free software. When a user accepts the terms of service on the setup wizard, they automatically also opt into installing the extra entity or entities without realizing it.
When inside, the culprit adds a new extension, or helper object, to all supported web browsers in the system. This persistent entity modifies the homepage, new tab page and default search provider and replaces all of these settings with chromesearch.win. The ensuing obnoxious events are all about traffic redirects to the rogue "Chrome Search" page. Unfortunately, commonplace manual troubleshooting may be futile in the chromesearch.win virus scenario. To be precise, it should be a component of a more complex fix. The sections below will walk you through the process of eliminating this PUP and getting web browsers back to their normal state.
Chromesearch.win virus automatic removal
The extermination of the Chrome Search (chromesearch.win) virus can be efficiently accomplished with reliable security software. Sticking to the automatic cleanup technique ensures that all components of the infection get thoroughly wiped out from your system.
1. Download recommended security utility and get your PC checked for malicious objects by selecting the Start Computer Scan option
2. The scan will come up with a list of detected items. Click Fix Threats to get the adware removed from your system. Completing this phase of the cleanup process is most likely to lead to complete eradication of the infection. However, it might be a good idea to consider ascertaining the malware is gone for good.
Remove Chrome Search PUP using Control Panel
Open Control Panel. On Windows XP / Windows 8, go to Add or Remove Programs. If your OS is Windows Vista / Windows 7 / Windows 10, choose Uninstall a program
Look down the list and locate Chrome Search or other apps that appear fishy. Click the Uninstall/Change (Change/Remove) option to get the intruder removed if spotted
Chromesearch.win hijacker removal by resetting the affected browser
Please take into consideration that as effective as it is, the procedure of restoring browser defaults will lead to the loss of personalized settings such as saved passwords, bookmarks, browsing history, cookies, etc. In case you are not certain this outcome is suitable despite its obvious efficiency, it's advised to follow the automatic removal method described in one of the previous sections of this tutorial.
Reset Google Chrome
Click on the Chrome menu icon and select Settings
Locate the Advanced option under Settings and click on it to expand the menu. Then, pick the Reset button at the bottom
When a new screen appears, hit Reset once again
Chrome will now display a confirmation dialog box listing the types of data that will be lost if you proceed. Read the message carefully and, if you're sure, click Reset
Reset Mozilla Firefox
Click on Help menu and select Troubleshooting Information from the drop-down list, or type about:support in the URL field
On the Troubleshooting Information screen, click Refresh Firefox option and confirm the procedure on another dialog
Reset Internet Explorer
In IE, go to Tools and select Internet Options from the list
Hit the Advanced tab and click on the Reset option
IE will now display Reset Internet Explorer Settings box, where you should put a checkmark next to Delete personal settings option and click Reset at the bottom
Verify whether chromesearch.win virus has been completely removed
For certainty's sake, it's advised to repeatedly run a scan with the automatic security software in order to make sure no harmful remnants of this adware are left inside Windows Registry and other operating system locations.
No ratings yet.