The word 'CrySiS' may seem like an awful misspelling, but it makes perfect sense in the context of cybersecurity. Said term designates one of the oldest and largest known families of file-encrypting malware. Also known as Dharma, this underground workshop of digital pests has given rise to dozens of variants during its existence. The newest one appends the .cesar extension to encrypted data.
What is the Cesar ransomware?
The CrySiS/Dharma horde of ransom Trojans proved to be amongst the most prolific. It has had some ups and downs since emergence in November 2016, including two newsmaking releases of master decryption keys and the launch of about a dozen spinoffs distributed by independent criminal groups. The .cesar file version discovered lately doesn't fall out of the general paradigm. It uses virtually the same design for ransom notes as the precursors, utilizes a combination of AES and RSA cryptographic algorithms, and follows a similar pattern for encrypted files. Regarding the latter hallmark, every hostage entry is assigned a new extension like .id-F24B7CBA.[payfordecrypt@qq.com].cesar. Note that the ID part and email address may vary. By the way, reports are starting to come in about a possible newer version of CrySiS ransomware that affixes the .arena extension to files.
The 8-character victim ID constituting the file extension is isolated to a specific victim, whereas the email address component depends on the cybercriminal ring that deployed the malicious payload on a computer. Some other emails that may be there in square brackets include:
m.heisenberg@aol.com
black.mirror@qq.com
gladius_rectus@aol.com
btc2017@india.com
mandanos@foxmail.com
sindragosa@bigmir.net
sir.dragcsa@bigmir.net
One more indicator of the Cesar virus attack is the dropping of ransom notes into folders with locked data and on the desktop. These are files named Info.hta and Readme.txt. The ransomware displays the former edition automatically. It is a window whose title matches the attacker's contact email. The warning part of its contents goes, "All your files have been encrypted due to a security problem with your PC." The how-to instructs the victim to contact the threat actor using the email address indicated in the file extension. The amount of cryptocurrency demanded by the crooks can be somewhere between 0.5 and 2 Bitcoin. Again, it is a function of who exactly has contaminated a PC and how greedy they are.
The .cesar file ransomware usually ends up inside a computer via hacked remote desktop services. In other words, hackers guess or brute-force RDP credentials to remotely access a machine, and then execute the malicious process called bars.exe, bars-h.exe or 1osn.exe on the host. When done, the infection traverses all hard disk volumes for potentially important data and encrypts the detected files using a two-layered approach based on AES and RSA ciphers. Unfortunately, the Cesar ransomware variant cannot be decrypted for free at this point – its crypto facet is robust enough. Meanwhile, consider following a specially crafted recovery procedure that revolves around best forensics practices.
Cesar/CrySiS ransomware automatic removal
Extermination of this ransomware can be efficiently accomplished with reliable security software. Sticking to the automatic cleanup technique ensures that all components of the infection get thoroughly wiped from your system.
1. Download recommended security utility and get your PC checked for malicious objects by selecting the Start Computer Scan option
Download Cesar/CrySiS ransomware remover
2. The scan will come up with a list of detected items. Click Fix Threats to get the ransomware and related infections removed from your system. Completing this phase of the cleanup process is most likely to lead to complete eradication of the plague proper. Now you are facing a bigger challenge – try and get your data back.
Methods to restore files encrypted by Cesar/CrySiS ransomware
Workaround 1: Use file recovery software
It's important to know that the Cesar/CrySiS ransomware creates copies of your files and encrypts them. In the meanwhile, the original files get deleted. There are applications out there that can restore the removed data. You can utilize tools like Stellar Data Recovery for this purpose. The newest version of the ransomware under consideration tends to apply secure deletion with several overwrites, but in any case this method is worth a try.
Download Stellar Data Recovery Professional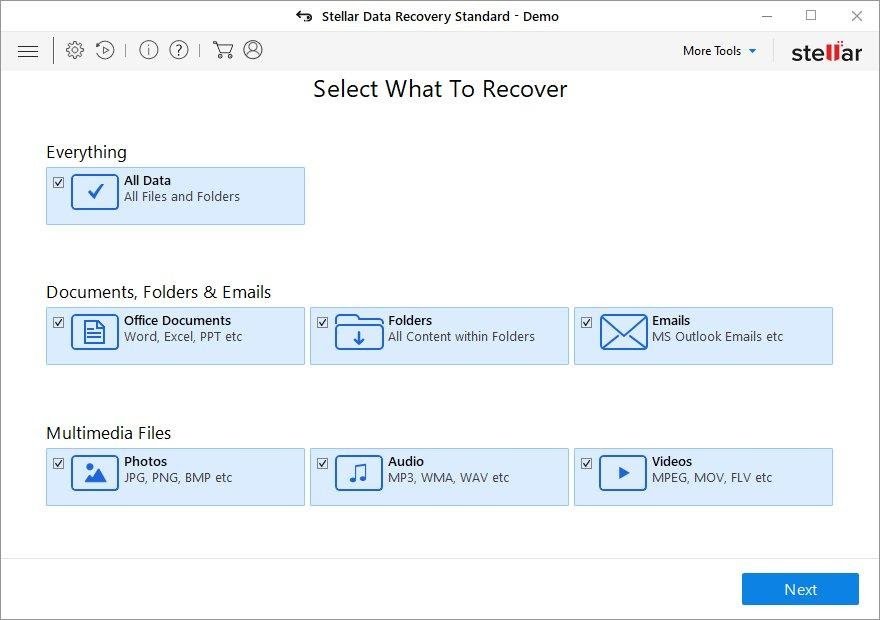 Workaround 2: Make use of backups
First and foremost, this is a great way of recovering your files. It's only applicable, though, if you have been backing up the information stored on your machine. If so, do not fail to benefit from your forethought.
Workaround 3: Use Shadow Volume Copies
In case you didn't know, the operating system creates so-called Shadow Volume Copies of every file as long as System Restore is activated on the computer. As restore points are created at specified intervals, snapshots of files as they appear at that moment are generated as well. Be advised this method does not ensure the recovery of the latest versions of your files. It's certainly worth a shot though. This workflow is doable in two ways: manually and through the use of an automatic solution. Let's first take a look at the manual process.
Use the Previous Versions feature
The Windows OS provides a built-in option of recovering previous versions of files. It can also be applied to folders. Just right-click on a file or folder, select Properties and hit the tab named Previous Versions. Within the versions area, you will see the list of backed up copies of the file / folder, with the respective time and date indication. Select the latest entry and click Copy if you wish to restore the object to a new location that you can specify. If you click the Restore button, the item will be restored to its original location.

Apply Shadow Explorer tool

This workflow allows restoring previous versions of files and folders in an automatic mode rather than by hand. To do this, download and install the Shadow Explorer application. After you run it, select the drive name and the date that the file versions were created. Right-click on the folder or file of interest and select the Export option. Then simply specify the location to which the data should be restored.

Verify whether Cesar/CrySiS ransomware has been completely removed
Again, ransomware removal alone does not lead to the decryption of your personal files. The data restore methods highlighted above may or may not do the trick, but the ransomware itself does not belong inside your computer. Incidentally, it often comes with other ransomware, which is why it definitely makes sense to repeatedly scan the system with automatic security software in order to make sure no harmful remnants of this ransomware and associated threats are left inside Windows Registry and other locations.
No ratings yet.