The adware climate is constantly getting rainier, with numerous new intrusive samples of browser redirect and popup viruses splashing onto the scene in an unstoppable fashion. A particularly unwelcome trend in this context is that more and more of these infections are assuming cross-platform characteristics, as is the case with the novelcamp.net nuisance that affects Android and Windows alike.
"If I never love you" – What is novelcamp.net virus?
Popup malware causes one of the most irritating experiences imaginable. While the adverse effects are mild compared to, say, ransomware – the abominable twist of a user's online journey is definitely dramatic. The victims find it problematic to keep surfing the web as the infection recurrently redirects the browser to unwanted sites and shows splash screens that need to be closed off and on. Although this description appears somewhat generic, the novelcamp.net virus fits the mold precisely. It zeroes in popular brands of web browsers, tweaking their functionality so that the m.novelcamp.net/introduce?bookId=[random string] URL is opened in a new tab or a separate popup window once in a while. A serious quirk of this baddie is that it may hit Windows PCs and Android devices to the exact same extent.
If this problem appears in a way that seems out of the blue, those infected should recall a recent software installation process. The reasoning behind this statement is that the novelcamp.net redirect malware originates from app bundles. That's something very common on the present-day software distribution arena and denotes a technique where one or more extra programs are installed alongside the main object of the setup. The problem is, the user may be unaware of this. In fact, some installation clients, or wizards, are built in such a way that the person on the other end is encouraged to accept the default option and thereby take no notice of the additional elements getting in. The same applies to the proliferation of the malware in question – it may furtively accompany a free media player, file downloader, or software update.
Whereas the activity of novelcamp.net virus is manifested in an outright manner, that's just the tip of the iceberg. There is a lot happening behind the scenes. For instance, these are changes being made to browsers, including mobile and desktop versions of Chrome, Firefox, and IE. The culprit usually adds a plugin or extension that may operate stealthily and prevent itself from being noticed and disabled in the regular way. It's this object that creates either a scheduled event or defines a random trigger tasked with resolving the rogue domain name every now and then.
One more hurdle that complicates the detection of this threat, even with an Internet security tool running on the host, is that the novelcamp.net site itself uses a valid certificate verified by Amazon. Speaking of which, the web page proper isn't harmful and doesn't contain any malicious code. You can't get infected by simply visiting this repository of novels mixed up with unobtrusive ads. However, the method used to promote this resource is totally shady. Therefore, use the following tips to remove novelcamp.net virus if your computer or Android gadget is infected.
Novelcamp.net popup automatic removal
The extermination of Novelcamp.net redirect can be efficiently accomplished with reliable security software. Sticking to the automatic cleanup technique ensures that all components of the infection get thoroughly wiped out from your system.
1. Download recommended security utility and get your PC checked for malicious objects by selecting the Start Computer Scan option
Download Novelcamp.net remover
2. The scan will come up with a list of detected items. Click Fix Threats to get the popup removed from your system. Completing this phase of the cleanup process is most likely to lead to complete eradication of the infection. However, it might be a good idea to consider ascertaining the popup is gone for good.
Remove Novelcamp.net popup using Control Panel
Open Control Panel. On Windows XP / Windows 8, go to Add or Remove Programs. If your OS is Windows Vista / Windows 7 / Windows 10, choose Uninstall a program
Novelcamp.net popup removal by resetting the affected browser
Please take into consideration that as effective as it is, the procedure of restoring browser defaults will lead to the loss of personalized settings such as saved passwords, bookmarks, browsing history, cookies, etc. In case you are not certain this outcome is suitable despite its obvious efficiency, it's advised to follow the automatic removal method described in one of the previous sections of this tutorial.
Reset Google Chrome
Reset Mozilla Firefox
Click on Help menu and select Troubleshooting Information from the drop-down list, or type about:support in the URL field
Reset Internet Explorer
Verify whether Novelcamp.net popup has been completely removed
For certainty's sake, it's advised to repeatedly run a scan with the automatic security software in order to make sure no harmful remnants of this redirect are left inside Windows Registry and other operating system locations.
Novelcamp.net popup removal
What you need to do is uninstall the application that's causing trouble. As it has been mentioned, however, disabling and removing the virus in regular mode is to no avail, so the steps below are must-follow.
1. Boot the device into safe mode
 – Press and hold the Power button until the respective screen pops up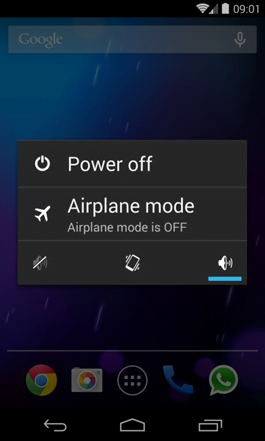 2. Now tap and hold the option that says Power off. Depending on the vendor and the phone model, the methods can vary. If nothing happens as a result of the above manipulations, power down the device, then press and hold the Volume Down and Volume Up buttons simultaneously while it's starting back up.
3. Confirm rebooting into safe mode by tapping OK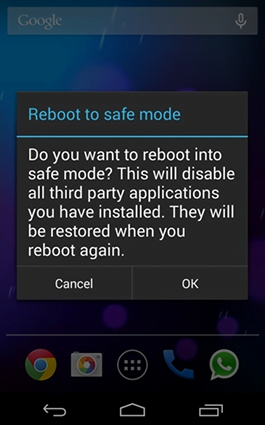 4. When in safe mode, go to Settings and select Apps

5. Look down the list of programs and locate a suspicious app or apps that were recently installed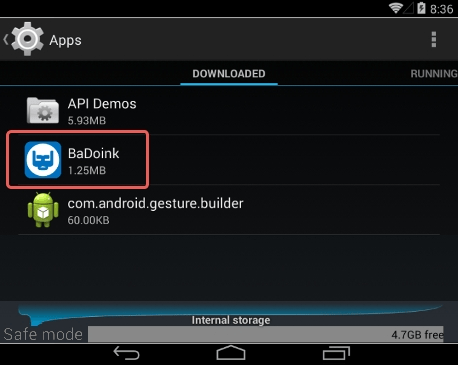 6. Tap each potentially unwanted app in turn and select the Uninstall option. If this button is not active, try Force stop first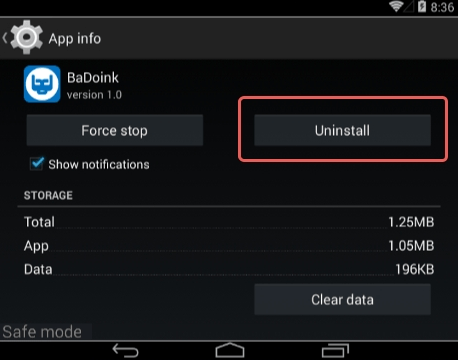 7. Tap OK on the confirmation dialog to uninstall the potentially unwanted app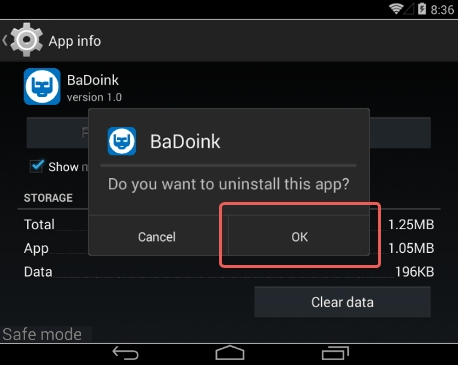 8. Restart into standard mode. The Novelcamp.net popup should have now vanished from your Android device. You might also want to consider installing a mobile security solution to prevent attacks of this sort further on.
Highly recommended: scan your Android device for issues
1. Download and install AMC Security Pro app onto your device. This is a one-stop solution to keep your Android gadget's performance at its peak and ensure effective protection against known and zero-day mobile threats. Once the tool is up and running, go ahead and tap the SCAN button.
2. The scan report will list the detected issues, including PUAs (potentially unwanted applications), malware, and memory hogs such as junk and big files that might not belong on your device. Tap the CLEAN button at the bottom to complete the removal.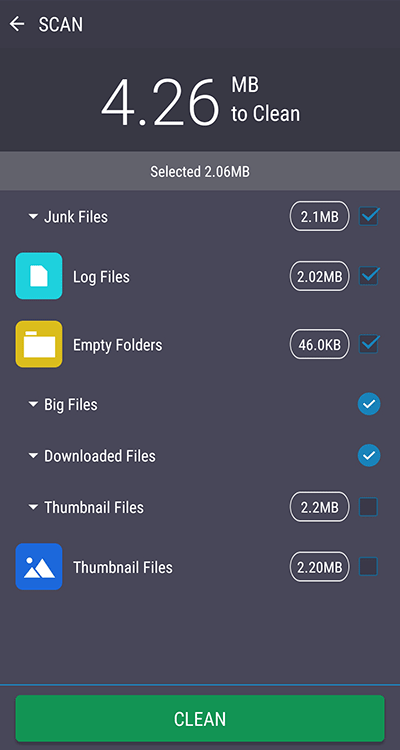 Now that the cleanup is done, check your smart device for malicious activity that brought you to this guide in the first place. Also, consider keeping this cleanup and maintenance tool on board as it's equipped with additional useful features, such as real-time web security, privacy advisor, anti-phishing, payment security, battery saver, and more.
5/5 (1)