AMC Security Pro is a one-stop Android maintenance app that keeps your device running smooth and ensures real-time protection against common online threats.
For a start, let's get a few things straight: smartphones are ubiquitous, and Android is the world's top mobile operating system with a market share of 75%. Most businesses are committed to the mobile-first approach in their marketing, because corporate decision-makers know numerous customers prefer tapping rather than clicking. The era of mobile is here, and we are bound to take it for granted. With that said, users are facing numerous challenges that weren't the case a decade ago: online security, device optimization, battery life, redundant apps, oversized cache – you name it.
What is the average Android user's response to these items on their daily to-do list? Some people just go with the flow, some do most of the tedious work manually, but there is an alternative. You can use an app like AMC Security Pro to keep your device fine-tuned at all times and stay on the safe side when surfing the web. Formerly known as Advanced Mobile Care by IObit, this software accommodates a handful of "clean & boost" features that optimize and defend an Android device from multiple different angles.
Screenshots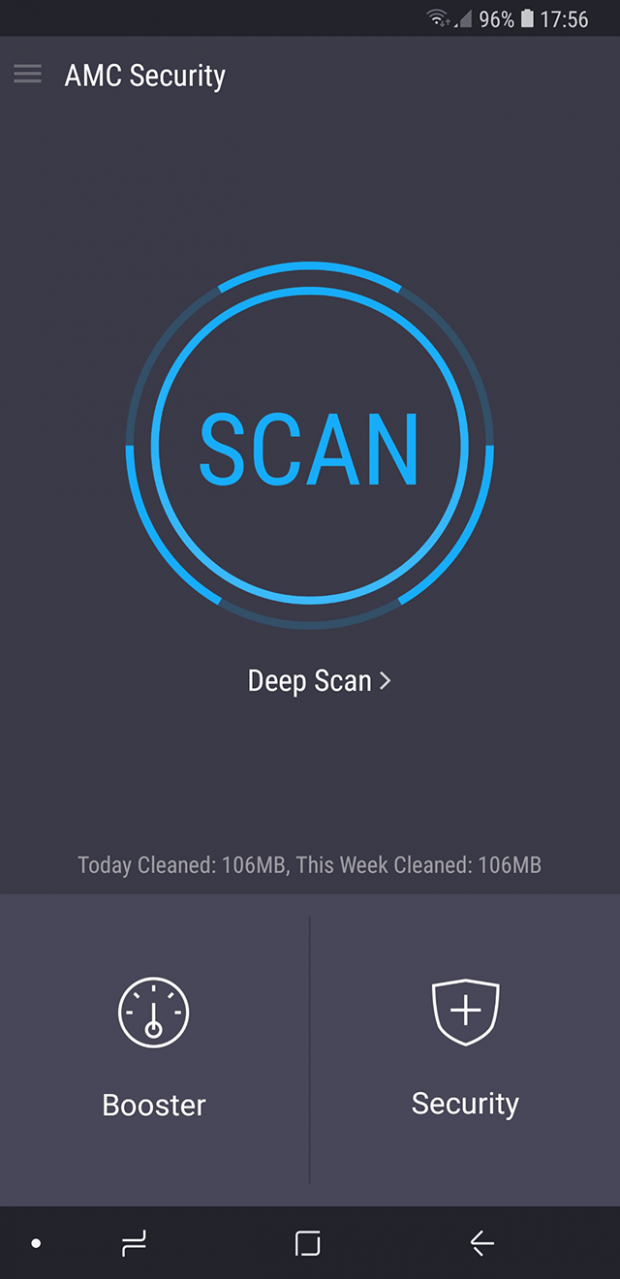 Technical specifications
• Supports Android 4.0.3 and up
• 38 languages available
Setup and Usability
Ease of installation is on the plus side of AMC Security Pro. The process is a no-brainer and takes roughly a minute to complete. Before the app is launched, it displays a few welcome screens with brief descriptions of new features and ones that have had an overhaul recently, including Power Booster, Scan Items, and Long Battery Life. This introductory stage is followed by a popup that recommends an update of the IObit database, offering an option to postpone it if so desired.
The main console of the app contains a big round Scan button that triggers a quick device checkup for junk and unneeded privacy records. Alternatively, you can tap Deep Scan right below that button, which takes the inspection a notch further and additionally looks for big files and thumbnails. Either way, the traversal of all the gadget's paths is a matter of seconds – at least, we haven't noticed any conspicuous difference in terms of the scan duration.
Booster and Security are two more elements of the main pane. Each one contains sub-items covering the relevant areas of the app's functionality that will be described further down. The additional features are accessible from the menu expanding once you tap the button in the upper left-hand part of the GUI. Aside from the license information, settings, and feedback sections, these include the App Manager, Battery Saver, Power Booster, Privacy Locker, and Notification Cleaner.
By default, the widget for AMC Security Pro sits in your Android notification zone and is displayed on the lock screen as well. It gives you a quick overview of the current protection and device health status while providing shortcuts to expand the program or access the configuration screen. Those who find this entity annoying can easily disable it by going to Settings – Notification bar.
All in all, the app is a pleasure to use. It boasts a neat and use-friendly interface, runs lightning-fast scans, and has amazingly low system footprint. The only blot on the landscape is that the current version of AMC Security Pro lacks the call blocking feature, which was available until recently. IObit says it was removed because of a change in Google Play's policy regarding apps requiring access to one's calls and messages. Well, compliance is a serious thing, so the reasoning is understandable.
Features
The app encompasses a competitive arsenal of features delivering all-around Android device optimization and basic online security. Here's a lowdown on the most enticing functions under the hood of AMC Security Pro:
Efficiency
AMC Security Pro makes the otherwise cumbersome day-to-day Android maintenance easy and incredibly fast. It detects issues affecting the productivity of your smartphone or tablet and comes up with the optimal fixes. The app can actually release hundreds of megabytes of storage space in no time and allows you to get the most of your RAM memory right now.
We at Soft2Secure particularly like the web security kit that goes with this utility. It does a great job detecting phishing attempts and malware-tainted sites in real time and helps you stay away from these widespread perils. However, on-demand virus scan option is missing from the app's feature set at the time of writing. IObit representatives claim this is a temporary shortcoming caused by the previous AV services partner no longer updating their database of Android malware signatures. Meanwhile, the company reassures users that fully-fledged antivirus functionality will be added back shortly.
Support
From where we stand, AMC Security Pro users have plenty of support options at their disposal. The publisher's official website includes a comprehensive support center with FAQs, product manuals, and online help dashboard. It also provides a phone number for 24/7 assistance. Additionally, the application itself has a feedback section where you can type and submit your issue or recommendation. On the whole, to the vendor's credit, they appear to take customer support seriously.
Takeaways
As awesome as it is, Android OS is known to get crammed up with heaps of digital clutter over time. This is why using a lightweight and effective tool like AMC Security Pro is in most Android fans' best interest. Not only does this applet enhance a device's performance with a minimum of user involvement, but it also safeguards sensitive data and provides the essentials of online security. To wrap up, AMC Security Pro is definitely worth its salt.
4/5 (5)