Detailed description of Websearch.searchinweb.info browser hijacker and clear advice on how to remove this virus from one's computer are provided in this tutorial. The article also highlights the most widespread paths being leveraged by this infection to enter a PC bypassing user authorization as such. The cleanup recommendations are easy to understand and follow for restoring normal web surfing routine.
Based on the exhibited activity and peculiar traits, Websearch.searchinweb.info is flagged as a potentially unwanted program, adware, or browser hijack virus. It's distributed as a browser extension that acts in a persistent manner, keeping the user from going ahead and manually deleting it configuration-wise. What happens if this threat infiltrates a computer is some settings in Mozilla Firefox, Internet Explorer or Google Chrome get modified without a clear-cut possibility to further restore the previous state of things. These changes include homepage and preferred search provider distortion. This means Websearch.searchinweb.info will be constantly popping up every single time the affected web browser is opened and during the victim's attempts to look up some search terms of interest. In other words, this virus takes away the prerogative of user-defined preferences being applied.
In the majority of known contamination cases, the pathway for this virus to get inside is associated with other software. For example, some users are reporting the emergence of this issue after they installed an application called Fast Free Converter, whereby the malicious add-on leading to Websearch.searchinweb.info redirects sneaks in as an extra 'feature' to this install. This is just one instance of a distributor program; there are more. These are typically free apps that might actually be functional in their area of expertise, but the unwanted bundle is still there. As a preventive measure, be sure to carefully read all terms of the installers you activate to make sure they have got no dubious things included. If it's opt-out, deselect the suspicious stuff.
Yet another bad facet of this virus is its unfortunate capability to collect information about one's search terms and browsing preferences in general. This is privacy infringement, which is a serious matter these days. The commercial model that drives this hijacker's prosperity is about generating traffic to other web resources. The remuneration for attracting users in this manner is something that keeps adware like this afloat.
To learn a set of applicable methods for Websearch.searchinweb.info virus removal, please review the thoroughly tested elimination tips provided in the step-by-step instruction section below.
Websearch.searchinweb.info automatic removal
Extermination of Websearch.searchinweb.info virus can be efficiently accomplished via the use of reliable security software. Sticking to the automatic cleanup technique ensures that all components of the infection get thoroughly wiped out from your system.
1. Download recommended security utility and get your PC checked for malicious objects by selecting the Start Computer Scan option
2. The scan will come up with a list of detected items. Click Fix Threats to get Websearch.searchinweb.info removed from your system. Completing this phase of the cleanup process is most likely to lead to eradication of the infection. However, it might be a good idea to consider ascertaining the malware is gone for good
Remove Websearch.searchinweb.info using Control Panel's functionality
• Open Control Panel. On Windows XP / Windows 8, go to Add or Remove Programs. If your OS is Windows Vista / Windows 7, choose Uninstall a program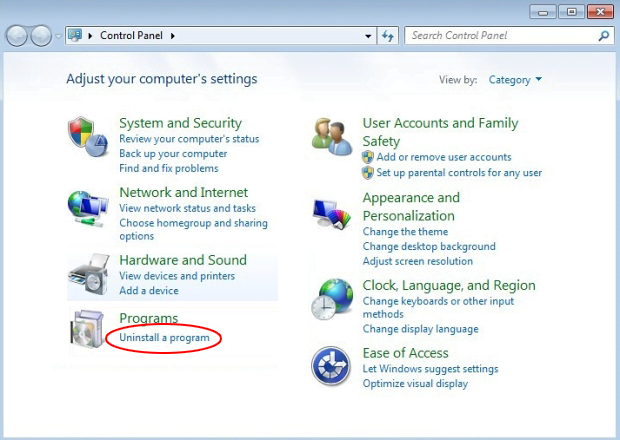 • Look for any third-party software on the list that may be potentially affiliated with Websearch.searchinweb.info or which you believe should not be there, and click Uninstall/Change option to get those removed

Get rid of Websearch.searchinweb.info virus by resetting your web browser
Please take into consideration that as effective as it is, the procedure of restoring browser defaults will lead to the loss of personalized settings such as saved passwords, bookmarks, browsing history, cookies, etc. In case you are not certain this outcome is suitable despite its obvious efficiency, it's advised to follow the automatic removal method described in one of the previous sections of this tutorial.
Reset Mozilla Firefox
• Click on Help menu and select Troubleshooting Information from the drop-down list, or type about:support in the URL field

• On the Troubleshooting Information screen, click Reset Firefox option

Reset Internet Explorer
• In IE, go to Tools and select Internet Options from the list

• Hit the Advanced tab and click on the Reset option

• IE will now display Reset Internet Explorer Settings box, where you should put a checkmark next to Delete personal settings option and click Reset at the bottom

Reset Google Chrome
• Click on the Chrome menu icon and select Settings

• Locate Show advanced settings option and click on it

• Now you need to click on the Reset browser settings button at the bottom


• Chrome will display a confirmation dialog box listing the types of data that will be lost if you proceed. Read the message carefully and, if you're sure, click Reset

Verify whether Websearch.searchinweb.info virus has been completely removed
For certainty's sake, it's advised to repeatedly run a scan with the automatic security software in order to make sure no harmful remnants of this adware are left inside Windows Registry and other system locations.
No ratings yet.