Customizing web browser settings is as easy as ABC – all that needs to be done is go to the configuration pane and type the preferred values for homepage, new tab and default search. It may even be possible to pick the most popular service providers from a readily available list. This whole built-in convenience, however, can become void in seconds if a hijacker like Web-start.org finds itself on a computer.
Similarly to its replica Tech-connect.biz, the Web-start.org virus operates with complete disregard for user authorization. It does not ask for approval when installing onto a computer, nor does it display any dialog messages before turning a victim's main online preferences upside down. One of the ways in which this hijacker affects a system is it identifies what browsers are currently installed on the PC, and then modifies the corresponding shortcut settings. The result of this blatant interference is as follows: Web-start.org will be popping up as a high-priority page every time the user double-clicks on the shortcut icon. Because the adware threat in question is cross-browser, the brands of Internet navigation clients don't make much of a difference. The exact same unwelcome changes will take effect in Chrome, Firefox and Internet Explorer if these are installed on a target machine.
In addition to the shortcut impact described above, the hijacker meddles with a browser's deeper configuration. It replaces the user-defined start page, favorite search engine and new tab page with the Web-start.org value. Consequently, not only will the rogue site be appearing every time you open the browser, but its URL will also be resolved during web searching routine over the address bar, and whenever you spawn up a tab. This complete frenzy revolves around a website that looks harmless. In fact, it doesn't pose any malware risk to the victim. Titled "Homepage", Web-start.org landing contains a search bar and a number of square icons for widespread web services.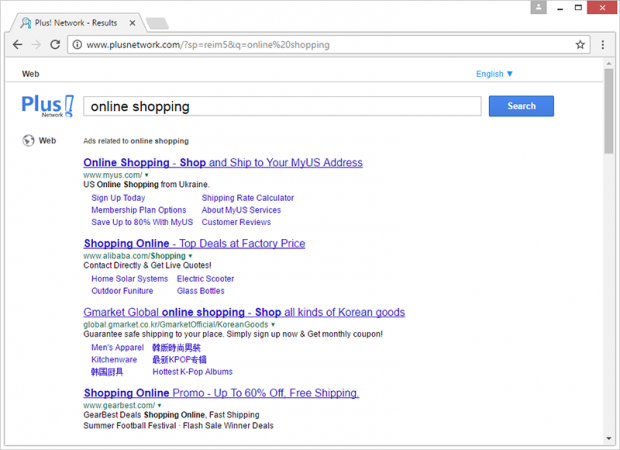 Although there is no danger in visiting the site under consideration, it's a nuisance because it pops up constantly and cannot be easily opted out of. What is more, Web-start.org redirects to another page whenever the victim enters random keywords in its lookup box. The linked-to resource is called the "Plus! Network" at Plusnetwork.com. The search results displayed on it include excessive sponsored links. The abundance of ads explains why this particular hijacker and similar infections are out there and comprise such a flourishing business model.
But is it legal? Technically, it is. This adware ends up inside a PC when a user is installing another application. The notion of "bundling" is a perfect match to describe this process. Some builds of free multimedia players, computer games, video format converters and hardware driver packs go with extra items on board. The additions are mostly PUPs, or Potentially Unwanted Programs like Web-start.org. By accepting the Terms and Conditions of the main setup, you unknowingly also opt for the installation of the browser hijacker. The adverse changes it makes when already inside are in no way authorized either. Instead of tolerating this nasty redirect pest further on, get down to removing it and fixing the broken browser settings.
Web-start.org virus automatic removal
The extermination of Web-start.org virus can be efficiently accomplished with reliable security software. Sticking to the automatic cleanup technique ensures that all components of the infection get thoroughly wiped out from your system.
1. Download recommended security utility and get your PC checked for malicious objects by selecting the Start Computer Scan option
2. The scan will come up with a list of detected items. Click Fix Threats to get the adware removed from your system. Completing this phase of the cleanup process is most likely to lead to complete eradication of the infection. However, it might be a good idea to consider ascertaining the malware is gone for good.
Remove Web-start.org adware program using Control Panel
Open Control Panel. On Windows XP / Windows 8, go to Add or Remove Programs. If your OS is Windows Vista / Windows 7, choose Uninstall a program
Look down the list and find an app or apps that seem fishy. Click the Uninstall/Change (Change/Remove) option to get the intruder removed if spotted
Web-start.org hijacker removal by resetting the affected browser
Please take into consideration that as effective as it is, the procedure of restoring browser defaults will lead to the loss of personalized settings such as saved passwords, bookmarks, browsing history, cookies, etc. In case you are not certain this outcome is suitable despite its obvious efficiency, it's advised to follow the automatic removal method described in one of the previous sections of this tutorial.
Reset Mozilla Firefox
Click on Help menu and select Troubleshooting Information from the drop-down list, or type about:support in the URL field
On the Troubleshooting Information screen, click Refresh Firefox option and confirm the procedure on another dialog
Reset Internet Explorer
In IE, go to Tools and select Internet Options from the list
Hit the Advanced tab and click on the Reset option
IE will now display Reset Internet Explorer Settings box, where you should put a checkmark next to Delete personal settings option and click Reset at the bottom
Reset Google Chrome
Click on the Chrome menu icon and select Settings
Locate Show advanced settings option and click on it
Now you need to click on the Reset browser settings button at the bottom
Chrome will display a confirmation dialog box listing the types of data that will be lost if you proceed. Read the message carefully and, if you're sure, click Reset
Verify whether Web-start.org virus has been completely removed
For certainty's sake, it's advised to repeatedly run a scan with the automatic security software in order to make sure no harmful remnants of this adware are left inside Windows Registry and other operating system locations.
No ratings yet.