This guide encompasses the bare facts about Sweet-page.com browser redirect virus, including contamination methods, pursued goals, and application-level technical background. Furthermore, you will be provided with information on efficient ways to get rid of Sweet Page Search hijacker.
Online services promotion is inherently an intricate thing, but Sweet-page.com exceeds all reasonable bounds and disregards ethical rules when arranging traffic increment to the affiliated resources. Security applications identify it as a PUP, which stands for a "potentially unwanted program", adware, browser hijacker. Whereas Sweet Page Search wasn't found to exhibit dangerous behavior as such, it definitely shouldn't be doing what it does on the infected computer. The problems that the affected users encounter include a few things: first off, this adware changes browser settings, namely default search provider and homepage; secondly, the victims are constantly ending up on Yahoo! Search page in the long run, no matter which engine they prefer. The worst part about this is that you can't just resolve the issue by typing in or choosing the correct configuration values because the underlying virus will be distorting those over and over.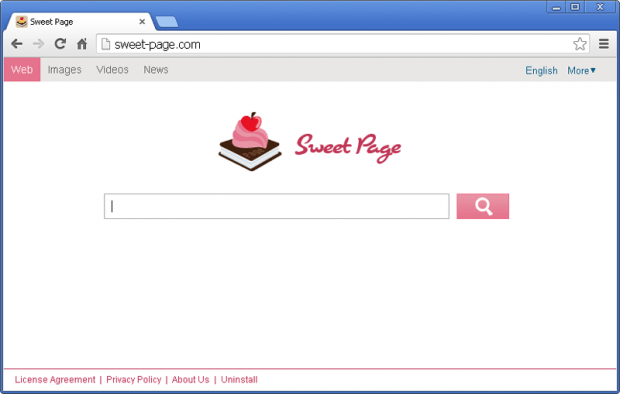 How Sweet-page.com infection finds itself on a targeted computer is a fairly trivial story. It typically bundles with other software that a great many users download due to the fact that those are distributed free of charge. Thus far, the following apps have been identified as such "carriers": WPM17.8.0.3159, SupTab, IePluginService, and Sweetpage Browser new tab extension. In case any of these was recently installed, it's likely that you've got the culprit in question as well. The setup routine for such applications is often times not too self-explanatory in terms of the options and extras, so it's highly recommended to scrutinize the opt-out stuff and read the License Agreement carefully.
The profit model behind Sweet Page hijacker is associated with bringing large amounts of search traffic to the partnering services. It goes without saying that activity like this is well paid for by the interested parties. However, it's hard to justify the adopted tactic as intrusive and aggressive as this, where one's browser defaults are forcibly altered without user permission whatsoever.
Making the affected web browser act normally is a matter of following a well-balanced cleanup procedure in this case. Again, simply putting in the right settings won't help as long as the virus proper stays on board. Be sure to read the recommendations below to go relentless on the Sweet Page Search infection.
Sweet Page adware automatic removal
Elimination of Sweet-page.com virus can be efficiently accomplished through the use of reliable security software. Sticking to the automatic cleanup technique ensures that all components of the adware get thoroughly wiped out from your system.
1. Download recommended security utility and get your PC checked for malicious objects by selecting the Start Computer Scan option
2. The scan will come up with a list of detected items. Click Fix Threats to get Sweet Page bug removed from your system. Completing this phase of the cleanup process will most likely lead to complete eradication of the infection. However, it might be a good idea to consider ascertaining the malware is gone for good. Furthermore, you will also need to fix the browser shortcut settings.
Remove Sweet-page.com using Control Panel's functionality
• Open Control Panel. On Windows XP / Windows 8, go to Add or Remove Programs. If your OS is Windows Vista / Windows 7, choose Uninstall a program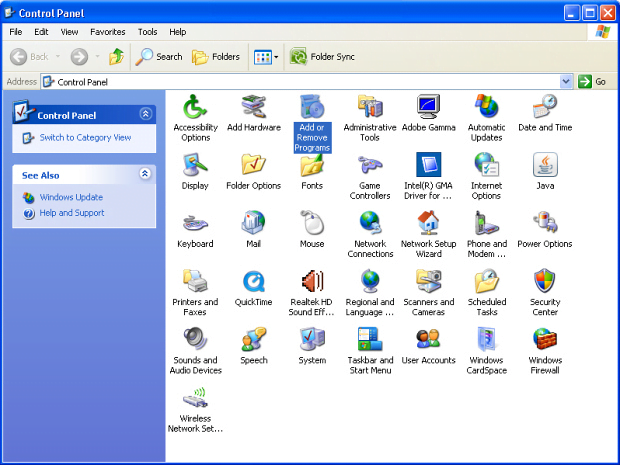 • Look for any third-party software on the list that may be potentially affiliated with Sweet-page.com or which you believe should not be there (WPM17.8.0.3159, SupTab, IePluginService, and Sweetpage Browser new tab extension, or other suspicious apps), and click Change/Remove option to get those removed

Remove Sweet-page.com from Firefox
• In order to restore your correct Firefox preferences, type about:config in the browser's address field and press Enter
• Confirm that you would like to proceed by clicking on "I'll be careful, I promise!" button on the alert that pops up

• In the field called Search, type sweet-page or sweet page
• Firefox will display all preferences related to Sweet-page.com. Be sure to right-click on each item and select the Reset option
• Since Firefox shortcut parameters gets affected by this infection as well, right-click on the shortcut and choose Properties. Then proceed to Shortcut tab and delete http://sweet-page.com/ from the Target field. Save the changes.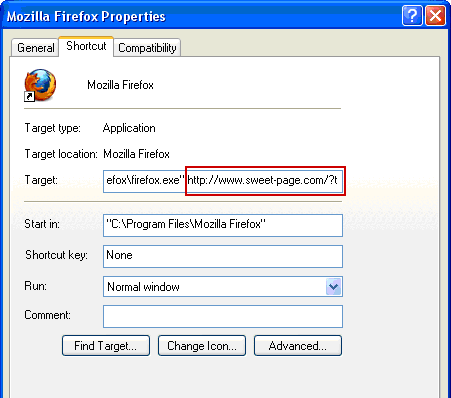 Remove Sweet-page.com from Internet Explorer
• In IE, go to Tools, select Manage Add-ons from the drop-down list, and choose Enable of Disable Add-ons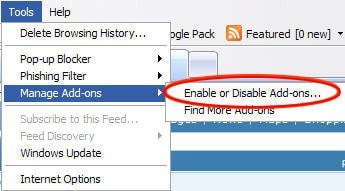 • Select Search Providers in the left-hand part of the interface. In the field to the right, choose the preferred search engine and click on Set as default button at the bottom
• On the same screen, remove Sweet Page from the list by highlighting it and clicking Remove
• To debug your Internet Explorer shortcut settings, right-click on it and select Properties
• Go to Shortcut tab and delete http://sweet-page.com/ from the area named Target. Save the changes you made


• Now you need to set the correct IE homepage. Go to Tools and choose Internet Options. Hit the General tab and type in or paste the homepage you would like to open at browser launch

Remove Sweet-page.com from Google Chrome
• Click the Chrome menu icon in the top right-hand part of the Chrome window
• Proceed to Tools –> Extensions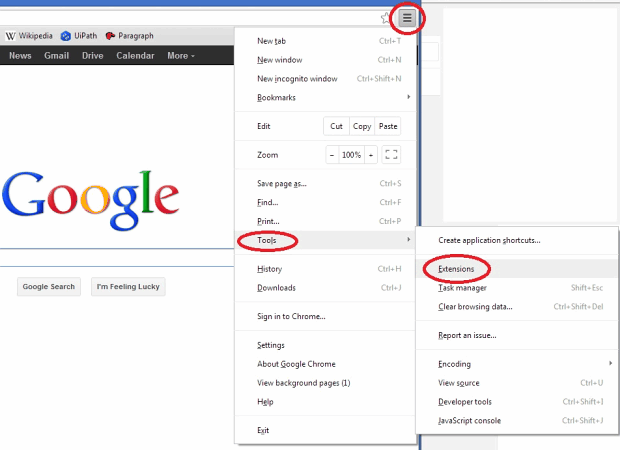 • Locate the unwanted extension affiliated with Sweet-page.com adware
• When the malicious item is spotted, remove it by clicking on the trash bin icon next to it as shown on the screenshot below

• Again, click on the Chrome menu icon
• Choose Settings

• Proceed to the section named On startup under Settings, select the radio button for Open a specific page or set of pages option and click on Set pages link.

• On the Startup pages screen that pops up, find the one that has Sweet-page in its URL and click X button to the right.
• Proceed to the Search section under Settings, select Manage search engines option. Find and delete Sweet Page from the list. Also, select your preferred search provider on the same interface
• Now, in order to correct your Chrome shortcut settings, right-click on the shortcut icon and choose Parameters. Click on the Shortcut tab at the top and erase the the http://sweet-page.com/ part from the Target field. Save the changes you made

Recheck if Sweet Page virus has been successfully removed
For certainty's sake, it's advised to repeatedly run a scan with the automatic security software in order to make sure no harmful remnants of Sweet-page.com adware are left inside Windows Registry and other system locations
No ratings yet.