This article presents a body of knowledge that will come in handy to those infected with the Speedial browser virus. You will find out what it is, how it spreads, why it's around, and how to completely remove it from an attacked computer.
Browser extensions are predominantly great assistants in various nuances of web surfing, making things easier and faster online. That's true, but not for all add-ons out there. Speedial, which is the antihero of this tutorial, nearly ruins the affected computer user's cyber life due to its impudent interference with everything related to Internet browsing. It's therefore not by chance that renowned security software suites unequivocally flag it as an adware program.
Speedial, also known as Speedial Search or Speed Dial, adheres to a proliferation technique which is covert rather than explicit. This adware's payload most often bundles with free apps that users download and install in the anticipation that they will bring about certain facilitation of computing. The most typical examples of what these utilities might be are multimedia tools such as players or format converters, social networking assistants in the form of quick-access toolbars, different sorts of downloaders, etc. The installation flow for these entities needn't necessarily communicate a clear statement that something else is going to be dropped on the PC alongside the main component. So, that's mostly how Speedial makes it inside a machine without the user having a clue.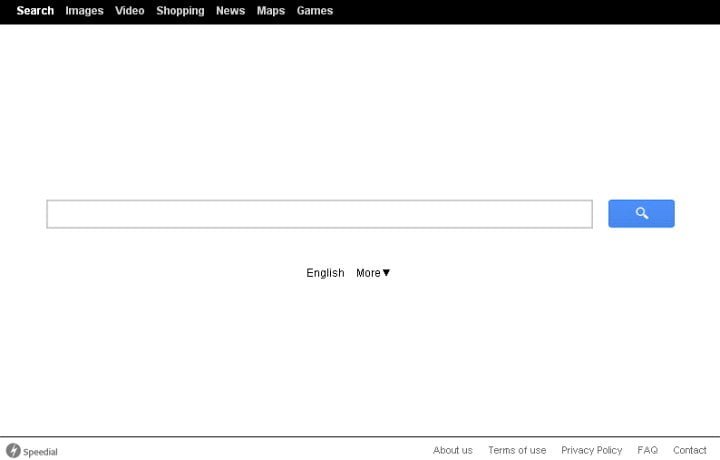 Through adding an unwanted browser helper object, the Speedial adware has the following effect on the system: web browser preferences undergo an unauthorized modification, with the homepage and primarily used search engine getting replaced with speedial.com. This web address denotes the landing page for the traffic monetization network underlying all of this shady activity. The page itself is much like the rest of the web search providers, differing though in the structure of search results pages and of course the user attraction methods that have been touched upon.
Every set of results returned for an arbitrary query on speedial.com includes up to ten sponsored links within three standalone ad boxes. Since these are paid-for ads, the figurative bulk of the iceberg here is easy to understand – this adware is being distributed for profit which is gained via advertising on the Internet. The horrible tactics laid aside, this appears to be a very lucrative business for computer fraudsters. But since it causes people a great deal of inconvenience, "remove" is the only sensible verdict regarding Speedial virus – this guide will help you learn how to put it into practice.
Speedial virus automatic removal
Extermination of the Speedial hijacker can be efficiently accomplished with reliable security software. Sticking to the automatic cleanup technique ensures that all components of the infection get thoroughly wiped out from your system.
1. Download recommended security utility and get your PC checked for malicious objects by selecting the Start Computer Scan option
2. The scan will come up with a list of detected items. Click Fix Threats to get Speedial.com removed from your system. Completing this phase of the cleanup process is most likely to lead to complete eradication of the infection. However, it might be a good idea to consider ascertaining the malware is gone for good
Remove Speedial using Control Panel
Open Control Panel. On Windows XP / Windows 8, go to Add or Remove Programs. If your OS is Windows Vista / Windows 7, choose Uninstall a program
Look for Speedial, Speedial Search or other software potentially affiliated with this adware on the list and click Uninstall/Change option to get those removed
Remove Speedial adware from Firefox
In order to restore your correct Firefox preferences, type about:config in the browser's address field and press Enter
Confirm that you would like to proceed by clicking on "I'll be careful, I promise!" button on the alert that pops up
In the field called Search, type speedial
Firefox will display all preferences related to Speedial adware. Be sure to right-click on each item and select the Reset option
To remove the Speedial extension proper, go to Tools and select Add-ons on the list
Find Speedial (random version) entry on the list and click Remove button
Remove Speedial from Internet Explorer
In IE, go to Tools and choose Manage add-ons option in the drop-down menu
Select Search Providers in the left-hand part of the interface. In the field to the right, choose the preferred search engine and remove Speedial from the list by highlighting it and clicking the Remove button at the bottom of the screen
Now you need to set the correct IE homepage. Go to Tools and choose Internet Options. Hit the General tab and type in or paste the homepage you would like to open at browser launch
Remove Speedial from Google Chrome
Click the Chrome menu icon in the top right-hand part of the Chrome window
Select Extensions in the drop-down list
Locate the Speedial extension on the interface, and click on the trash bin icon next to it
Check if Chrome is still acting up or not. If it is, you need to reset its defaults. Click on the Chrome menu icon again and select Settings
Locate Show advanced settings option and click on it
Now you need to click on the Reset browser settings button at the bottom
Chrome will display a confirmation dialog box listing the types of data that will be lost if you proceed. Read the message carefully and, if you're sure, click Reset
Recheck if Speedial virus has been successfully removed
For certainty's sake, it's advised to repeatedly run a scan with the automatic security software in order to make sure no harmful remnants of Speedial.com adware are left inside Windows Registry and other system locations
No ratings yet.