The problem of custom web browser settings getting replaced with Search.snapdo.com or Search.snap.do is analyzed from every possible facet in this article. You will learn the symptoms of this adware infection, the probable consequences of its presence on a PC, and step-by-step removal advice.
Online marketing strategies and software distribution may well appear to leverage misleading or overly obtrusive methods for arriving at commercial objectives. This approach is clearly demonstrated by Snap.do whose tools, including the Smartbar browser component, stick to shady spreading tactics and act in a manner that is inherent to adware. Snap.do apps are advertised as means for bringing together and facilitating different aspects of the regular online activity, including social networking, web page content conversion to PDF, screen capturing, enjoying online multimedia, etc. Sadly enough, users soon find out that they have to sacrifice a lot in return. As soon as one of Snap.do extensions gets added to the web browsers operating on a computer, the user is no longer in control of the homepage URL and the search provider – the preferred values for the above get automatically altered to Search.snapdo.com or Search.snap.do without the victim's authorization.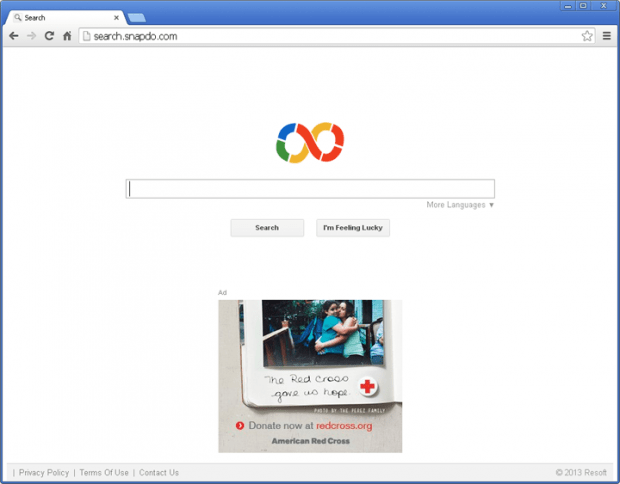 In regards to the ways this potentially unwanted program infiltrates PCs, there exist a few. First off, users may unknowingly install the tool of interest on their own, vainly anticipating a better web surfing experience. Snap.do may as well be embedded in the installers for free software, whereby the unclearly stated or not-stated-at-all extra component literally sneaks into a computer, the user having no idea something malicious is there. Either way, the installation is immediately followed by the browsers being taken over.
Search.snapdo.com, the target web page for this adware, is not harmful in itself. As a search system, which it's designed to be, it returns results for your queries in a way much like any regular engine out there. However, users don't go there because they want so, unlike it is with reputable services of this sort. Furthermore, the amount of ads displayed on Snap.do Search pages definitely goes off-scale – this, by the way, is the primary motivator for the authors of this dubious software who strive to gain as much profit as possible out of an advertising like this.
No doubt Snap.do Search should be removed from the affected PC and the browsers once its actual nature comes to light. The instructions provided below, if followed accurately, guarantee a complete extermination of this adware.
Snap.do Search automatic removal
Elimination of the Search.snapdo.com virus can be efficiently accomplished through the use of reliable security software. Sticking to the automatic cleanup technique ensures that all components of the adware get thoroughly wiped out from your system.
1. Download recommended security utility and get your PC checked for malicious objects by selecting the Start Computer Scan option
2. The scan will come up with a list of detected items. Click Fix Threats to get this adware removed from your system. Completing this phase of the cleanup process will most likely lead to complete eradication of the infection. However, it might be a good idea to consider ascertaining that the malware is gone for good. Furthermore, you will also need to fix the browser shortcut settings.
Remove Snap.do Search using Control Panel
Open Control Panel. On Windows XP / Windows 8, go to Add or Remove Programs. If your OS is Windows Vista / Windows 7, choose Uninstall a program
Look for Snap.do, Snap.do Search or Snap.do Smartbar on the list and click Uninstall option to get the bad one exterminated
Remove Snap.do Search from Firefox
In order to restore your correct Firefox preferences, type about:config in the browser's address field and press Enter
Confirm that you would like to proceed by clicking on "I'll be careful, I promise!" button on the alert that pops up
In the field called Search, type snapdo or snap.do
Firefox will display all preferences related to Search.snapdo.com hijacker. Be sure to right-click on each item and select the Reset option
Since Firefox shortcut parameters gets affected by this infection as well, right-click on the shortcut and choose Properties. Then proceed to the Shortcut tab and delete http://feed.snapdo.com/ (might be http://search.snapdo.com) from the Target field. Save the changes
Remove Snap.do Search from Internet Explorer
In IE, go to Tools and choose Manage add-ons option in the drop-down menu
Select Search Providers in the left-hand part of the interface. In the field to the right, choose the preferred search engine and click on Set as default button at the bottom. Also, remove the item named Web Search, which corresponds to Snap.do Search, from the list by highlighting it and clicking Remove
To debug your Internet Explorer shortcut settings, right-click on it and select Properties. Then go to the Shortcut tab and delete http://feed.snapdo.com/ (or similar string with 'snap' in its structure) from the area named Target. Save the changes you made
Now you need to set the correct IE homepage. Go to Tools and choose Internet Options. Hit the General tab and type in or paste the homepage you would like to open at browser launch
Remove Snap.do Search from Google Chrome
Click on the Chrome menu icon in the top right-hand part of the Chrome window
Proceed to Tools –> Extensions
Locate Snap.do or similar affiliated extension on the list
When the suspicious item is spotted, remove it by clicking on the trash bin icon next to it as shown on the screenshot below
Click on the Chrome menu icon again
Choose Settings
Proceed to the section named On startup under Settings, select the radio button for Open a specific page or set of pages option and click on Set pages link
When on the Startup pages interface, remove the culprit by clicking on the X button next to the item that has 'snapdo' in its URL
Under Appearance, select the Show Home Button option. Click Change
Now select Use the New Tab page option and click OK
Proceed to the Search section under Settings, select Manage search engines option. Find Search.snap.do on the list and delete it. Also, select your preferred search provider
Now, in order to correct your Chrome shortcut settings, right-click on the shortcut icon and choose Parameters. Click on the Shortcut tab at the top and erase the http://feed.snapdo.com/ part from the Target field. Save the changes you made
Recheck if Snap.do Search virus has been successfully removed
For certainty's sake, it's advised to repeatedly run a scan with the automatic security software in order to make sure no harmful remnants of Search.snapdo.com adware are left inside Windows Registry and other system locations
No ratings yet.