One of the fundamentals of the present-day web surfing is the availability of choice. Users can choose their favorite search engine, homepage, news site, weather forecast resource – you name it. Thankfully, browsers allow people to easily define and "hard-code" these preferences into their Internet routine. Cybercriminals are looking for methods to take this prerogative away, though. This is the case with SearchBaron.com, a rogue provider backed by malware.
What is the SearchBaron.com virus?
Creating handy web navigation shortcuts is a piece of cake due to the remarkable flexibility of the modern browsers. All it takes is just typing a URL in the appropriate configuration field, or even simpler than that, selecting the sough-after service from a list. What can undermine this whole convenience is malware activity. A recent example is the dodgy campaign that has to do with a pseudo search engine called Search Baron. Its goal is to hijack users' web traffic in such a way that they get redirected to the above-mentioned unwanted site in a recurrent fashion. Upon initial inspection, the page looks much like a garden-variety information lookup source, but this is a misconception because there are quite a few things about that make people frown. First of all, the browser diverting instances are triggered without the victim's consent. Secondly, the site is worthless in terms of search value as it simply reroutes the traffic further to bing.com.

This type of tampering is a prosaic browser hijacking stratagem. It is based on the indisputable fact that Internet traffic coming from unique hosts is a commodity that can be sold to interested parties.
Whoever has control of one's browser can force hits to specific domains that benefit from these rogue visits in various ways. The Search Baron malware makes victims visit its junk homepage, and from there, take an online travel via intermediary pages to Bing. The latter service is in no way related to the scam and simply performs the function of a red herring to add a sense of legitimacy to the raid. The whole rerouting frenzy is caused by a harmful add-on that modifies the user's custom settings, such as the homepage and preferred search engine. To add insult to injury, the offensive browser helper object stubbornly resists troubleshooting. Even if the victim attempts to undo the tweaks by hand, the culprit that still resides in the system will re-apply the wrong settings automatically.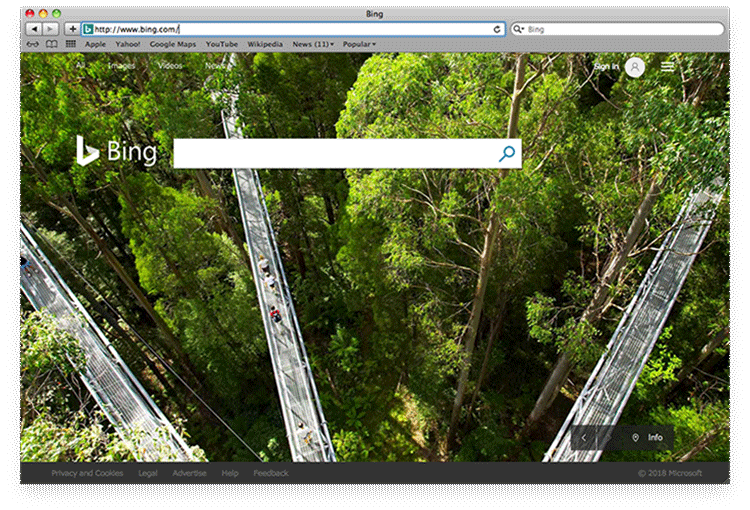 Despite the ostensibly imperceptible essence of the attack, SearchBaron.com virus cannot infiltrate systems unless the user unknowingly lets it in. The infection chain begins with an application package hosted on some untrustworthy software repository. Having spotted some free app providing cool features, seemingly with no strings attached, most people go ahead and install it. Doing so can be risky, because many freeware entities are accompanied by malicious ones, with specially crafted installation clients concealing the bundle. Therefore, when downloading and installing new software from unfamiliar sites, it's worthwhile to make sure nothing potentially harmful is going to tailgate into the PC along the way.
When the attack is in full swing, SearchBaron.com becomes the user's most visited web page due to the obtrusive traffic interception mechanism. As a result, doing a web search by means of any alternatively service becomes virtually impossible. On top of that, simply entering an arbitrary site's URL in the browser omnibox will also return the dubious page most of the time. The only way of breaking this nasty redirect loop is to eliminate the malicious program. That's what the following part of this guide is about.
SearchBaron.com adware automatic removal
The extermination of SearchBaron.com hijacker can be efficiently accomplished with reliable security software. Sticking to the automatic cleanup technique ensures that all components of the infection get thoroughly wiped out from your system.
1. Download recommended security utility and get your PC checked for malicious objects by selecting the Start Computer Scan option
Download SearchBaron.com remover
2. The scan will come up with a list of detected items. Click Fix Threats to get the redirect removed from your system. Completing this phase of the cleanup process is most likely to lead to complete eradication of the infection. However, it might be a good idea to consider ascertaining the adware is gone for good.
Remove SearchBaron.com adware using Control Panel
Open Control Panel. On Windows XP / Windows 8, go to Add or Remove Programs. If your OS is Windows Vista / Windows 7 / Windows 10, choose Uninstall a program
SearchBaron.com adware removal by resetting the affected browser
Please take into consideration that as effective as it is, the procedure of restoring browser defaults will lead to the loss of personalized settings such as saved passwords, bookmarks, browsing history, cookies, etc. In case you are not certain this outcome is suitable despite its obvious efficiency, it's advised to follow the automatic removal method described in one of the previous sections of this tutorial.
Reset Google Chrome
Reset Mozilla Firefox
Click on Help menu and select Troubleshooting Information from the drop-down list, or type about:support in the URL field
Reset Internet Explorer
Verify whether SearchBaron.com adware has been completely removed
For certainty's sake, it's advised to repeatedly run a scan with the automatic security software in order to make sure no harmful remnants of this hijacker are left inside Windows Registry and other operating system locations.
5/5 (3)