Users encountering annoying pop-ups by Rvzr-a.akamaihd.net during web surfing will benefit from reviewing this article in that it provides thoroughly researched information regarding this adware's distribution patterns, computer impact, as well as 100% effective removal method.
The determinative fact about Rvzr-a.akamaihd.net in terms of IT security is that it's adware, that is, malicious code whose objective consists in pushing certain products or services through intrusive means and unauthorized interference on the software level. This particular infection is known to mainly promote digital products such as media players or browsing software via different landing pages. The incentive for cybercriminals in the context of this whole campaign is nothing but financial gain: by advertising things on a scale as large as this, they obviously get rewarded by makers of the "recommended downloads".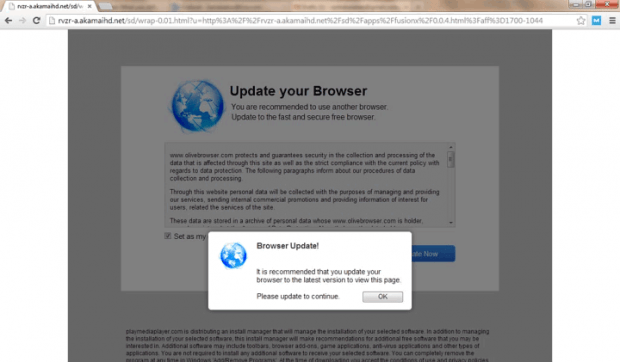 Rvzr-a.akamaihd.net is almost always delivered onto a targeted PC with other third-party software. Per in-depth study we carried out, these potential disseminators may include the following applications: Yontoo, ClickDownload, DealFinder, Language Learning, FBPhotoZoom, WebCake, Browse2Save, HD-Plus, DownloadTerms, Lyricsfan, A2ZLyrics, LyricXeeker, LyricsSay-1, GetLyrics, SuperLyrics. So, just do a quick recall and see if any of the above apps have been downloaded lately – chances are the entrance path for the adware in question is related to them. It's also important to bear in mind that the actual inclusion of Akamaihd virus into the install package is hardly ever stated clearly.
When the unwanted code gets executed on your computer, the resulting activity is impossible to not notice. The influx of noxious advertising information will keep bombarding your personal cyberspace by opening separate pages or bookmarks all of a sudden. There are known instances of ads by Rvzr-a.akamaihd.net being unnaturally embedded into websites, which makes Internet browsing further entangled.
Is this adware dangerous for the infected computer? Probably not – it's annoying rather than harmful. Does it pose risk to your privacy? Definitely yes – along with displaying the wrong stuff in your browser, it also collects personally identifiable information and details on your browsing preferences. So, the takeaway is clear: this virus does not belong inside your machine hence removal of Rvzr-a.akamaihd.net should be on your agenda as a number one priority.
Rvzr-a.akamaihd.net popup automatic removal
The extermination of Rvzr-a.akamaihd.net popup can be efficiently accomplished with reliable security software. Sticking to the automatic cleanup technique ensures that all components of the infection get thoroughly wiped out from your system.
1. Download recommended security utility and get your PC checked for malicious objects by selecting the Start Computer Scan option
Download Rvzr-a.akamaihd.net remover
2. The scan will come up with a list of detected items. Click Fix Threats to get the popup removed from your system. Completing this phase of the cleanup process is most likely to lead to complete eradication of the infection. However, it might be a good idea to consider ascertaining the popup is gone for good.
Remove Rvzr-a.akamaihd.net popup using Control Panel
Open Control Panel. On Windows XP / Windows 8, go to Add or Remove Programs. If your OS is Windows Vista / Windows 7 / Windows 10, choose Uninstall a program
Rvzr-a.akamaihd.net popup removal by resetting the affected browser
Please take into consideration that as effective as it is, the procedure of restoring browser defaults will lead to the loss of personalized settings such as saved passwords, bookmarks, browsing history, cookies, etc. In case you are not certain this outcome is suitable despite its obvious efficiency, it's advised to follow the automatic removal method described in one of the previous sections of this tutorial.
Reset Google Chrome
Reset Mozilla Firefox
Click on Help menu and select Troubleshooting Information from the drop-down list, or type about:support in the URL field
Reset Internet Explorer
Remove Rvzr-a.akamaihd.net popup from Mozilla Firefox
Click on Help menu and select Troubleshooting Information from the drop-down list, or type about:support in the URL field
Remove Rvzr-a.akamaihd.net popup from Internet Explorer
Reset Google Chrome
Verify whether Rvzr-a.akamaihd.net popup has been completely removed
For certainty's sake, it's advised to repeatedly run a scan with the automatic security software in order to make sure no harmful remnants of this popup are left inside Windows Registry and other operating system locations.
Rvzr-a.akamaihd.net – common landing page variants
As it has been mentioned, the adware in question tends to promote different products via its landing pages. Below is a list of the known versions with graphics and the URLs that get resolved.
1. Offering a system player update, Rvzr-a.akamaihd.net may return the landing page whose screenshot you can see below.
This one initiates potentially malicious software download from playmediaplayer.com if the "Install Update" option is clicked.
2. The adware may as well recommend getting a "Video Downloader" from onlinevideopctools.com.
3. Here is another Rvzr-a.akamaihd.net landing page advising that you get a "recommended" media player
Clicking on the "Install" button will trigger a download from ttb.playmediaplayer.com this time, introducing another piece of junk to your system.
4. This one suggests updating your browser due to your alleged inability to view the web page you were going to visit.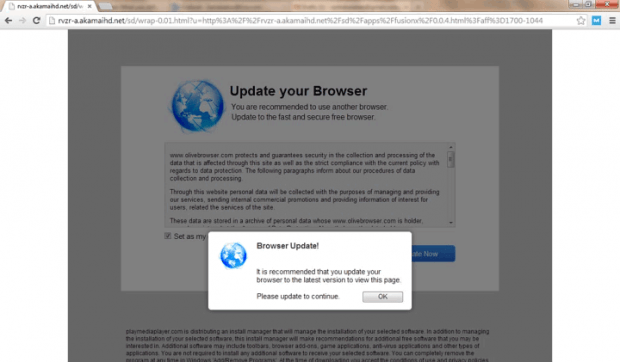 If you happen to click OK on the alert, download from weupdatevideos.com will commence. By the way, turns out it's not browsing software that gets pushed via this page.
No ratings yet.