The potentially unwanted entity called Rocket Search hijacking the web browser settings which are supposed to be up to the user is comprehensively described in the present post. One will find out how the browser redirects to http://rocket-find.com are triggered on an infected computer, what privacy-related consequences users may suffer due to this activity, and what measures need to be adopted in order to efficiently address this problem.
The implementations of black hat SEO can be versatile, ranging from inflating search results with certain entries due to link-building schemes – all the way to straightforwardly hijacking people's web browsers to further route their traffic to pre-specified landing sites. The Rocket Search adware was found to indulge in the latter form of underhand Internet marketing. Its payload is not something that users consciously download; instead, it glues up with the installers for third-party software exemplified by browser helper objects, entertainment solutions, video converters and similar items that traditionally enjoy popularity with Internet surfers. All of the applications involved are free ones, so it won't hurt carefully studying the setup terms for any such programs before installing them as there might well be unspoken things that will enter the PC along with the core component. Whereas the network of these promoters keeps changing over time, one of the known apps is called Extended Protection, so it should be treated with caution should it be encountered.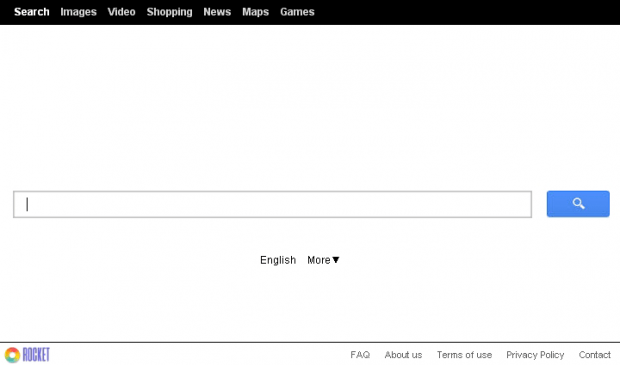 What the Rocket Search program does promptly after intrusion is it changes the defaults for the web browsers installed and used on the PC. Note it's got extensions for all prevalent Internet browsing clients therefore any that get detected on the machine are subject to distortion. Specifically, the homepage URL now becomes http://rocket-find.com, and the search engine that the victim chose to prioritize points to the same address as well. In practice, this leads to cyclical redistribution of traffic over to rocket-find.com. The said web page is safe actually, but the search results returned by it are flooded with redundant advertising information impersonated by ads above the fold. The sponsored data is what makes adware spreading a lucrative business.
The first thing that may occur to the affected users is to modify the correct configuration by hand, but the saved settings will only be active until the next time the browser is launched. Sadly, that's how Rocket Search is programmed to act, aggressively overriding the custom settings over and over. Consequently, the cleanup should be fulfilled in compliance with a more complex procedure whose efficiency has been well tested in real-world scenarios.
Rocket Search adware automatic removal
The extermination of Rocket Search adware can be efficiently accomplished with reliable security software. Sticking to the automatic cleanup technique ensures that all components of the infection get thoroughly wiped out from your system.
1. Download recommended security utility and get your PC checked for malicious objects by selecting the Start Computer Scan option
Download Rocket Search remover
2. The scan will come up with a list of detected items. Click Fix Threats to get the adware removed from your system. Completing this phase of the cleanup process is most likely to lead to complete eradication of the infection. However, it might be a good idea to consider ascertaining the adware is gone for good.
Remove Rocket Search adware using Control Panel
Open Control Panel. On Windows XP / Windows 8, go to Add or Remove Programs. If your OS is Windows Vista / Windows 7 / Windows 10, choose Uninstall a program
Rocket Search adware removal by resetting the affected browser
Please take into consideration that as effective as it is, the procedure of restoring browser defaults will lead to the loss of personalized settings such as saved passwords, bookmarks, browsing history, cookies, etc. In case you are not certain this outcome is suitable despite its obvious efficiency, it's advised to follow the automatic removal method described in one of the previous sections of this tutorial.
Reset Google Chrome
Reset Mozilla Firefox
Click on Help menu and select Troubleshooting Information from the drop-down list, or type about:support in the URL field
Reset Internet Explorer
Verify whether Rocket Search adware has been completely removed
For certainty's sake, it's advised to repeatedly run a scan with the automatic security software in order to make sure no harmful remnants of this adware are left inside Windows Registry and other operating system locations.
No ratings yet.