Those suffering from Qone8.com browser redirects should find this guide informative in terms of research on the adware's origin and in-depth view of the methods for removing it.
Dealing with Qone8 hijacker is an extremely unpleasant experience in that it constantly directs you to the web page you aren't up to visiting. Flagged as adware, potentially unwanted program (PUP), or redirect virus, this entity was created with the sole aim of imposing certain Internet browsing parameters upon its victims. More precisely, the malicious app tends to replace the homepage and preferred search engine that you defined per your own wish – with the URLs of Start.qone8.com or Search.qone8.com, respectively.
Technically, this abominable activity is caused by the browser extension which is programmed to recursively modify the user's online preferences. As long as this app stays listed amongst your add-ons and remains active, you will not be able to restore the right settings manually no matter how often you try to do it. The malicious extension is known to be distributed with third-party apps some of which are Omiga-Plus, Wsys Control, Desk 365, eSave Security Control, New Tabs Uninstall, or Extended Protection, which are marketed as pieces of software intended to ease the browsing process or facilitate some aspects of computer use overall. Qone8 is included in these installs as either an opt-out extra or a covert component. So, users are highly recommended to mind what is being installed and pay particular attention to what's the bundle, if any.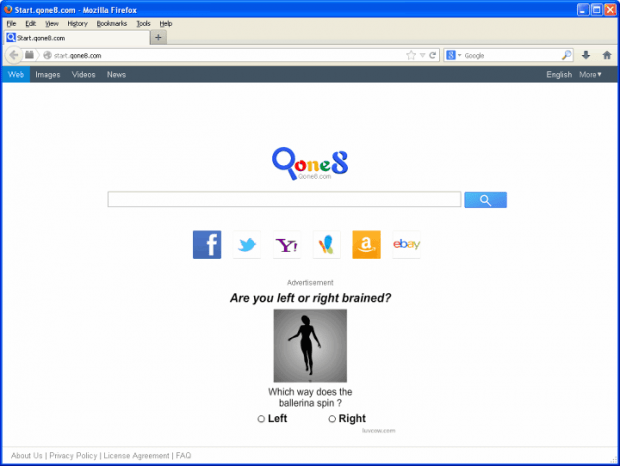 The reason why Qone8.com hijacker has been around for months is the substantial moneymaking potential it has. Its authors are obviously unwilling to give up the lucrative business of advertising products and services online. You see, whenever you go to Start.qone8.com or Search.qone8.com you see lots of ads all over the place, which means a fair probability that those get clicked. The latter, in its turn, brings money to whoever is behind this whole campaign.
Unfortunately, getting rid of this virus takes more than manual action on a victim's end. Unless the malign code proper gets removed, any changes you make by hand will be to no avail. Below is a comprehensive set of instructions to walk you through the cleanup process if you happened to fall victim to Qone8 fraud.
Qone8.com adware automatic removal
The extermination of Qone8.com adware can be efficiently accomplished with reliable security software. Sticking to the automatic cleanup technique ensures that all components of the infection get thoroughly wiped out from your system.
1. Download recommended security utility and get your PC checked for malicious objects by selecting the Start Computer Scan option
2. The scan will come up with a list of detected items. Click Fix Threats to get the adware removed from your system. Completing this phase of the cleanup process is most likely to lead to complete eradication of the infection. However, it might be a good idea to consider ascertaining the adware is gone for good.
Remove Qone8.com from Firefox
In order to restore your correct Firefox preferences, type about:config in the browser's address field and press Enter
Confirm that you would like to proceed by clicking on "I'll be careful, I promise!" button on the alert that pops up
In the field called Search, type Qone8.com
Firefox will display all preferences related to Qone8.com adware. Be sure to right-click on each item and select the Reset option
Remove Qone8.com from Internet Explorer
1. Get rid of the Qone8.com adware
2. Get the search engines list back to normal
Go to Tools menu and select Manage Add-ons
Click Search Providers
3. Set the right homepage
Go to Tools and select Internet Options
Proceed to the General tab
Click Use default or type the correct URL in the box
Remove Qone8.com from Google Chrome
Click the Chrome menu icon in the top right-hand part of the Chrome window
Select Settings in the drop-down list
Proceed to the section called On startup under Settings, select the radio button for Open a specific page or set of pages option and click on Set pages link
Find the Qone8.com adware on the list and click the trash bin icon next to it. This will remove the unwanted item
Verify whether Qone8.com adware has been completely removed
For certainty's sake, it's advised to repeatedly run a scan with the automatic security software in order to make sure no harmful remnants of this adware are left inside Windows Registry and other operating system locations.
No ratings yet.