When it comes to cybercrime, humans can be a weaker link than software vulnerabilities. Spam has gained notoriety for spreading ransomware and numerous other infections, but emails can also be a source of outright fraud. In the case of the ongoing Qatar Airways email scam, the target users run the risk of revealing their private information and being swindled out of money.
What is the Qatar Airways email scam?
All kinds of notifications related to airline flights are a very sensitive subject. Aside from the desire to be in the airport on schedule and not miss any important nuance, people also perceive this information in a financial context. Cybercriminals sure know that most users are tuned for updates in this regard – even if a person is not going to travel, a message from a well-known company like Qatar Airways will definitely draw their attention. In a recent manipulative move, online malefactors have been spewing out a bevy of fake emails impersonating the above-mentioned airline. Their subject is "Eticket [reference code]", and the look and feel is nearly identical to what a legit email would be like. The impostors stole the brand's logo to make the campaign as convincing as possible.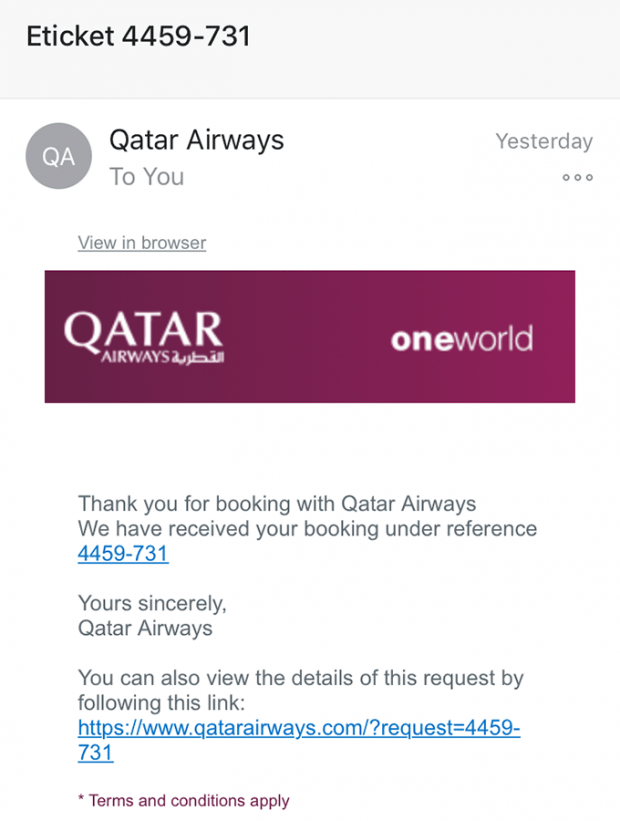 The theme of the Qatar Airways email scam has to do with a notification about a flight booking event, with a reference number being indicated there as well. Since most recipients haven't actually booked anything lately, they will likely want to take a deeper dive into the issue and make sure nobody has committed fraud in their name. For the record, here's the wording of the counterfeit notice:
Thank you for booking with Qatar Airways.
We have received your booking under reference [random number].

Yours sincerely,
Qatar Airways

You can also view the details of this request by following this link: [phony hyperlink].
This brings us to the main point. The link embedded in the email body may lead to a bogus form to be filled out with the user's personally identifiable data. Another scenario is that the page will contain obfuscated scripts to instantly infect the visitor's device with harmful code. Some victims have reported attempts to defraud them out of money in a very peculiar way. Specifically, the linked-to site may contain a "fantastic" deal, offering the unsuspecting user to invest in an ICO (Initial Coin Offering) for a new ambitious cryptocurrency project. To add some shades of plausibility to the hoax, the bad guys typically also include fake endorsements of the pseudo-initiative from celebrities and people who have allegedly earned a pretty penny this way. It goes without saying that trusting all those claims is a bad idea, because they are aimed at fooling people into wasting their money.
One more danger emanating from the Qatar Airways email scam is that in case the user has clicked on the booby-trapped link, they may have unknowingly triggered a malware contamination chain. The perpetrating code can be anything from sneaky spyware to a backdoor that will allow the crooks to access the computer any time. This is why it's strongly recommended to check the system for possible threats.
Qatar Airways email automatic removal
The extermination of Qatar Airways fake can be efficiently accomplished with reliable security software. Sticking to the automatic cleanup technique ensures that all components of the infection get thoroughly wiped out from your system.
1. Download recommended security utility and get your PC checked for malicious objects by selecting the Start Computer Scan option
Download Qatar Airways remover
2. The scan will come up with a list of detected items. Click Fix Threats to get the scam removed from your system. Completing this phase of the cleanup process is most likely to lead to complete eradication of the infection. However, it might be a good idea to consider ascertaining the email is gone for good.
5/5 (1)