Random obnoxious ads by Level Quality Watcher being displayed in your web browser as you are surfing the Internet? If so, be sure to read this article to learn how this adware manifests itself on the contaminated PC, what its technical background is, and how to efficiently get rid of it.
Level Quality Watcher is a piece of malicious software whose impact on an infected computer consists in triggering various types of ads (pop-ups, banners, etc.) within the web pages being opened in a victim's browser. Technically, this program is flagged by most security software vendors as adware or PUP, that is, potentially unwanted program. While not really dangerous for the affected PC overall, this app considerably deteriorates user experience and may infringe privacy of whoever is browsing with the respective processes running on the background. Depending on the bit-type of Windows you are using, this adware manifests itself on the executable level as either levelqualitywatcher32.exe or levelqualitywatcher64.exe. Also, the malware may add its extensions to Internet Explorer, Firefox or Chrome browsers. When launched, the corresponding process randomly generates annoying, possibly irrelevant advertisements which may well keep you from navigating the targeted web content by hovering over whole parts of the opened websites. Also note that the malicious program tends to display ads by affiliated services such as ScorpionSaver, NP Call for Great Tech Support, and BuzzSearch.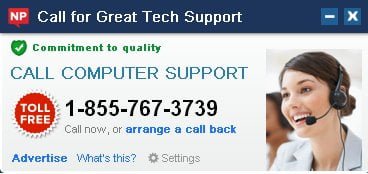 Unfortunately, catching the Level Quality Watcher malady is way easier than curing it. It most frequently comes with different downloads, including alleged software updates, multimedia software and suchlike objects that are prevalently distributed on a free of charge basis. Another widespread infection channel is bundling with other applications, sometimes reputable ones – in this case the adware is listed among opt-out offers; so be sure to uncheck all attendant suggestions that are of no interest to you as you're downloading stuff online.
The main reason why Level Quality Watcher exists is money. By embedding advertising content into browser tabs or windows, it creates ways for its authors to benefit from the traffic that gets generated. Advertisers who get customers are quite willing to pay for the leads these days – that's the trick behind this adware and tons of other similar-acting apps.
All the described nuances taken into account, it's definitely a priority to get rid of this malicious software for anyone who fell victim to its abominable practices. Below is a list of steps to follow in order to exterminate this malign code from your computer.
Level Quality Watcher removal
1. Download recommended security software and have it scan your system for different types of malicious objects, including adware

2. The scan will come up with a list of detected infections. Be sure to click Fix Threats option in order to get Level Quality Watcher removed from your computer. Completing this phase of the cleanup process is most likely to lead to complete eradication of the adware. However, it won't hurt to make sure the pest is gone
3. Go to Start menu, type services.msc in the search box, and hit Enter. This will open Windows Services interface
4. Among the listed services, please locate Level Quality Watcher entry. If it's there, right-click on it and select Stop

5. Now you need to check whether or not there are any traces of the adware left in Windows Registry. Click on the Start menu button, type regedit in the search field, and press Enter
6. Once Registry Editor is opened, go to the following path:
HKEY_LOCAL_MACHINE\SYSTEM\ControlSet001\Services\Level Quality Watcher.
If the entry is found, right-click on it and choose Delete in the context menu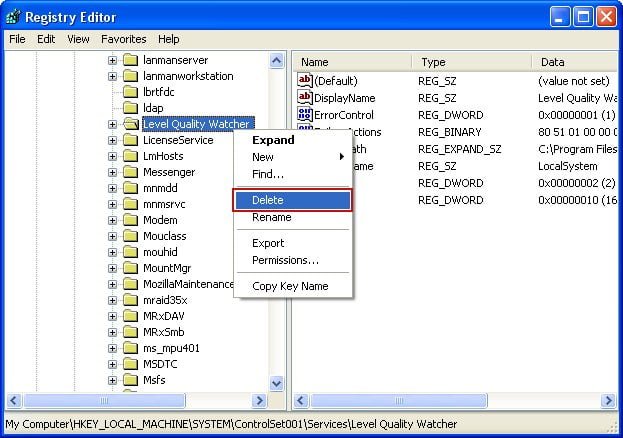 7. Open Program Files (C:\Program Files) and see if there is a folder named Level Quality Watcher in there. If spotted, delete it

Recheck if Level Quality Watcher has been removed
For certainty's sake, it's recommended to repeatedly run a scan with the automatic cleanup solution in order to make sure no harmful remnants of this adware are left in Windows Registry and other system locations
No ratings yet.