Computer users who found themselves in the jeopardy of recurrent browser redirects to Search.iMesh.net should review this guide to learn the general profile of the respective adware as well as a detailed step-by-step tutorial highlighting tips for removal of this infection and the related toolbar from the affected web browsers.
Legitimate software services that have earned an irreproachable reputation throughout the years that they have been around can at some point employ the techniques that add a fly in the ointment. For instance, iMesh is well-known peer-to-peer file sharing software providing its users with access to an enormous amount of multimedia content such as music and videos. While this sounds commendable, the shortcomings that accompany this software are extra components integrated in the browsers of those who downloaded and installed iMesh proper. The potentially unwanted browser helper objects such as iMesh Toolbar, iMesh Search-Results Toolbar or MediaBar turn one's web surfing into a really unpleasant experience. Users get their custom browser settings, namely the homepage and search provider, automatically changed to Search.iMesh.net.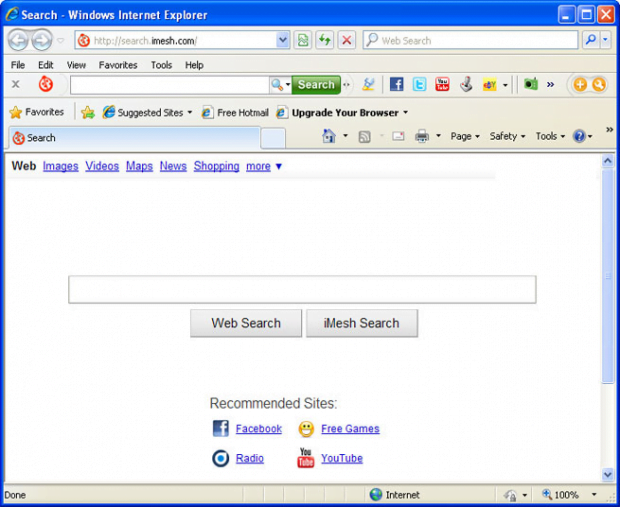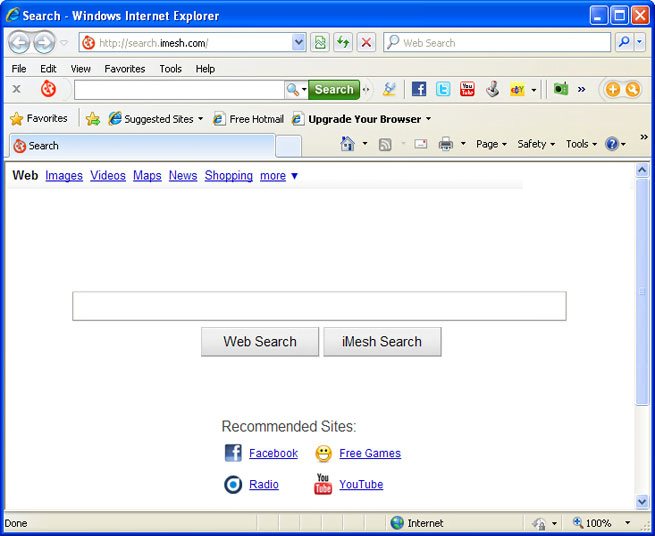 Unless the unwanted toolbar, which is labeled by many security software vendors as adware, is uninstalled for good, the above URL will be constantly resolved instead of the values actually chosen and preferred by the user. The problem consists in the fact that simply removing the iMesh app itself won't help as the affiliated add-ons tend to persevere. Also, changing the modified browser settings manually is not going to address the problem in a long-term perspective because the distortion will keep occurring.
iMesh Toolbar, iMesh Search-Results Toolbar and MediaBar can be eliminated in a number of steps outlined in the cleanup part of this article. Before setting the correct homepage and search engine properties, it's essential that the malicious components be completely removed otherwise the redirects to Search.iMesh.net will continue coming back.
Search.iMesh.net and iMesh Toolbar adware automatic removal
The extermination of Search.iMesh.net and iMesh Toolbar toolbar can be efficiently accomplished with reliable security software. Sticking to the automatic cleanup technique ensures that all components of the infection get thoroughly wiped out from your system.
1. Download recommended security utility and get your PC checked for malicious objects by selecting the Start Computer Scan option
Download Search.iMesh.net and iMesh Toolbar remover
2. The scan will come up with a list of detected items. Click Fix Threats to get the adware removed from your system. Completing this phase of the cleanup process is most likely to lead to complete eradication of the infection. However, it might be a good idea to consider ascertaining the adware is gone for good.
Remove Search.iMesh.net and iMesh Toolbar adware using Control Panel
Open Control Panel. On Windows XP / Windows 8, go to Add or Remove Programs. If your OS is Windows Vista / Windows 7 / Windows 10, choose Uninstall a program
Remove Search.iMesh.net and iMesh Toolbar from Firefox
In the left-hand pane of the screen, click on Extensions. Then click the Remove button next to Search.iMesh.net and iMesh Toolbar entries spotted
In order to restore your correct Firefox preferences, type about:config in the browser's address field and press Enter
Confirm that you would like to proceed by clicking on "I'll be careful, I promise!" button on the alert that pops up
In the field called Search, type Search.iMesh.net and iMesh Toolbar
Firefox will display all preferences related to Search.iMesh.net and iMesh Toolbar adware. Be sure to right-click on each item and select the Reset option
Remove Search.iMesh.net and iMesh Toolbar from Internet Explorer
1. Get rid of the Search.iMesh.net and iMesh Toolbar adware
2. Get the search engines list back to normal
Go to Tools menu and select Manage Add-ons
Click Search Providers
3. Set the right homepage
Go to Tools and select Internet Options
Proceed to the General tab
Click Use default or type the correct URL in the box
Remove Search.iMesh.net and iMesh Toolbar from Google Chrome
Click the Chrome menu icon in the top right-hand part of the Chrome window
Select Settings in the drop-down list
Proceed to the section called On startup under Settings, select the radio button for Open a specific page or set of pages option and click on Set pages link
On the Startup pages screen that pops up, find Search.iMesh.net and iMesh Toolbar and click the X button to the right
Find the Search.iMesh.net and iMesh Toolbar adware on the list and click the trash bin icon next to it. This will remove the unwanted item
Verify whether Search.iMesh.net and iMesh Toolbar adware has been completely removed
For certainty's sake, it's advised to repeatedly run a scan with the automatic security software in order to make sure no harmful remnants of this toolbar are left inside Windows Registry and other operating system locations.
No ratings yet.