The objective of this guide is to provide in-depth information about Search.conduit.com browser hijacker and outline comprehensive steps for removal of this adware.
The fringe between normal and obtrusive online marketing is very thin, and unfortunately some individuals tend to abuse this vague delineation. Conduit Search is currently one of the most prominent instances of such unethical practices. Broadly labeled as adware, the respective browser extension distorts its victims' web surfing and online search preferences by forcibly replacing the user-defined values with its own. As a result, the affected user gets directed to Search.conduit.com when opening their browser and trying to perform web search.
It doesn't take a scientist to understand why the authors of Conduit Search are adopting this sort of tactic. The underlying cause has to do with advertising on the Internet, which is an activity that gets plentifully paid for these days. The people who find themselves trapped in this constantly repeating loop of browser redirects get to see ads on the search results pages generated by Conduit. Therefore chances are users click on those ads, and the advertisers reward the scammers for this the leads.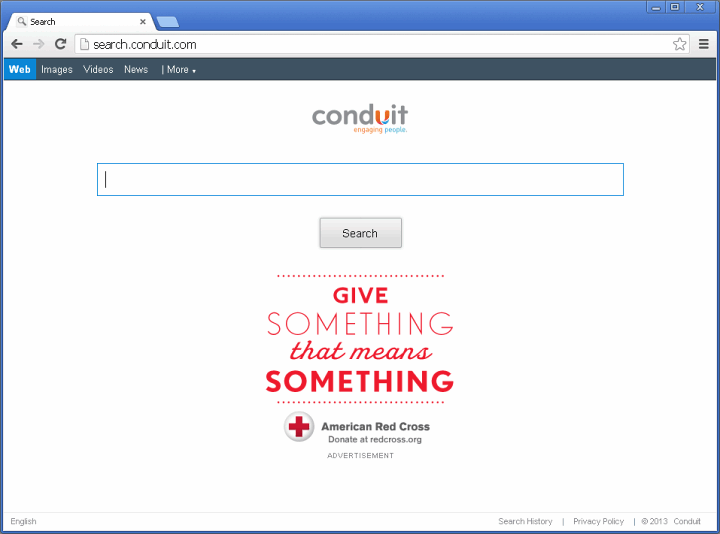 Sadly enough, getting contaminated with Conduit Search adware is quite likely to be a covert process. It often comes with third-party software downloads as an opt-out bundle which a great many users usually don't pay attention to. Also, the so-called Community Toolbar by Conduit is being distributed as a standalone instrument for boosting online advertising opportunities and can be created as a custom solution. These superficial benefits for businesses will inevitable cause trouble for a lot of users who happen to install this piece of software. Other apps leading to this browsing mess include BrotherSoft Extreme Toolbar, Search Protect by Conduit, and Conduit Apps Toolbar. So, treat these with caution.
Addressing the Conduit Search malware issue is not as trivial as it may appear at first sight. It won't go away if you manually restore your correct preferences in the settings of whatever browser you are using. In the cleanup part of this step-by-step guide we will tell you how to completely get rid of this nasty adware.
Conduit Search adware automatic removal
The extermination of Conduit Search adware can be efficiently accomplished with reliable security software. Sticking to the automatic cleanup technique ensures that all components of the infection get thoroughly wiped out from your system.
1. Download recommended security utility and get your PC checked for malicious objects by selecting the Start Computer Scan option
Download Conduit Search remover
2. The scan will come up with a list of detected items. Click Fix Threats to get the adware removed from your system. Completing this phase of the cleanup process is most likely to lead to complete eradication of the infection. However, it might be a good idea to consider ascertaining the adware is gone for good.
Remove Conduit Search adware using Control Panel
Open Control Panel. On Windows XP / Windows 8, go to Add or Remove Programs. If your OS is Windows Vista / Windows 7 / Windows 10, choose Uninstall a program
Remove Conduit Search from Firefox
In the left-hand pane of the screen, click on Extensions. Then click the Remove button next to Conduit Search entries spotted
In order to restore your correct Firefox preferences, type about:config in the browser's address field and press Enter
Confirm that you would like to proceed by clicking on "I'll be careful, I promise!" button on the alert that pops up
In the field called Search, type Conduit Search
Firefox will display all preferences related to Conduit Search adware. Be sure to right-click on each item and select the Reset option
Remove Conduit Search from Internet Explorer
1. Get rid of the Conduit Search adware
2. Get the search engines list back to normal
Go to Tools menu and select Manage Add-ons
Click Search Providers
3. Set the right homepage
Go to Tools and select Internet Options
Proceed to the General tab
Click Use default or type the correct URL in the box
Remove Conduit Search from Google Chrome
Click the Chrome menu icon in the top right-hand part of the Chrome window
Select Settings in the drop-down list
Proceed to the section called On startup under Settings, select the radio button for Open a specific page or set of pages option and click on Set pages link
Find the Conduit Search adware on the list and click the trash bin icon next to it. This will remove the unwanted item
Verify whether Conduit Search adware has been completely removed
For certainty's sake, it's advised to repeatedly run a scan with the automatic security software in order to make sure no harmful remnants of this adware are left inside Windows Registry and other operating system locations.
No ratings yet.