Adware creators keep spawning applications that tweak computer users' browser settings in a bid to drive traffic to certain web resources. Those landing sites look a lot like popular search providers but they are in fact just pathetic replicas thereof. Whereas some users may fail to notice the furtive substitution, the fact that their machines are hit by malicious software shouldn't be taken for granted.
Hohosearch.com is an example of a site like that. It isn't dangerous to simply visit and browse around, but the underlying potentially unwanted app (PUA) definitely doesn't belong in the operating system. The cybercriminal group running this campaign sticks with good ol' social engineering to infect Windows users on a big scale. The installer for this adware is nowhere to be found in the open Internet as a standalone piece of software – instead, it covertly escorts other programs. Whoever invented digital product bundling unwittingly made drive-by downloads of harmful code real. A person looking for a new free media player, movie downloader, hardware driver or streaming content grabber therefore runs the risk of catching this infection as part of a package.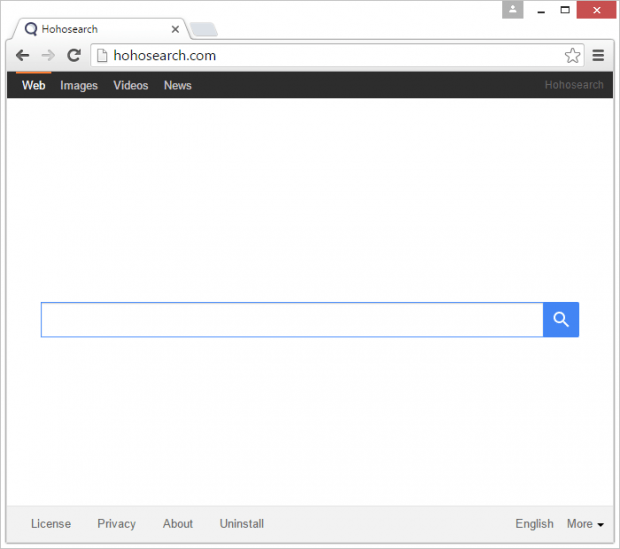 If the adware gets through and executes on a PC, it sets Hohosearch.com as the default search engine, homepage and new tab. The web browser brand doesn't matter because the malicious plugin named "Hohosearch Enhancer", or similar, features broad browser compatibility, so it's comfortable with Firefox, Chrome or Internet Explorer to an equal extent. The extension is persistent enough to prevent manual changes of the online preferences affected.
The idea of these attacks is to continually increase the amount of Internet traffic forwarded toward Hohosearch.com. This, in its turn, is a perfect platform for monetization, because user hits are convertible into tangible revenue. The website in question doesn't provide any services of its own and simply reroutes all queries to another resource, a legitimate and fully functional one. In terms of troubleshooting, it's important to understand that no rectification by hand will work until the infected user completely eradicates the Hohosearch adware proper. It uses a scheduled task to revert any action on the victim's end therefore the wrong settings will persevere. So follow a number of anti-adware directions to get rid of the problem.
Hohosearch adware automatic removal
The extermination of Hohosearch hijacker can be efficiently accomplished with reliable security software. Sticking to the automatic cleanup technique ensures that all components of the infection get thoroughly wiped out from your system.
1. Download recommended security utility and get your PC checked for malicious objects by selecting the Start Computer Scan option
2. The scan will come up with a list of detected items. Click Fix Threats to get the adware removed from your system. Completing this phase of the cleanup process is most likely to lead to complete eradication of the infection. However, it might be a good idea to consider ascertaining the adware is gone for good.
Remove Soap2Day malware using Control Panel
Open Control Panel. On Windows XP / Windows 8, go to Add or Remove Programs. If your OS is Windows Vista / Windows 7 / Windows 10, choose Uninstall a program
Look down the list and locate an app that appears fishy. Click the Uninstall/Change (Change/Remove) option to get the intruder removed if spotted
Hohosearch adware removal by resetting the affected browser
Please take into consideration that as effective as it is, the procedure of restoring browser defaults will lead to the loss of personalized settings such as saved passwords, bookmarks, browsing history, cookies, etc. In case you are not certain this outcome is suitable despite its obvious efficiency, it's advised to follow the automatic removal method described in one of the previous sections of this tutorial.
Reset Google Chrome
Click on the Chrome menu icon and select Settings
Locate the Advanced option under Settings and click on it to expand the menu. Then, pick the Reset button at the bottom
When a new screen appears, hit Reset once again
Chrome will now display a confirmation dialog box listing the types of data that will be lost if you proceed. Read the message carefully and, if you're sure, click Reset
Reset Mozilla Firefox
Click on Help menu and select Troubleshooting Information from the drop-down list, or type about:support in the URL field
On the Troubleshooting Information screen, click Refresh Firefox option and confirm the procedure on another dialog
Reset Internet Explorer
In IE, go to Tools and select Internet Options from the list
Hit the Advanced tab and click on the Reset option
IE will now display Reset Internet Explorer Settings box, where you should put a checkmark next to Delete personal settings option and click Reset at the bottom
Verify whether Hohosearch adware has been completely removed
For certainty's sake, it's advised to repeatedly run a scan with the automatic security software in order to make sure no harmful remnants of this hijacker are left inside Windows Registry and other operating system locations.
No ratings yet.