It's quite uncommon to see new ransomware strains emerge that don't represent any known lineage. A much more widespread trend these days is the opposite, where existing families expand with multiple variants. The HC7 blackmail malware appears to have been created independently, and it's gearing up for a rise. So learn how it acts and how to reinstate encrypted files with the .GOTYA extension.
What is the HC7 GOTYA ransomware?
HC7 denotes a recently catalogued ransomware program that encrypts a victim's files and won't provide the decryption key unless a specific amount of cryptocurrency is paid up. In this context, it goes the standard route that pretty much any blackmail virus goes. As opposed to the majority, though, the infection is proliferating via improperly secured remote desktop services. In a nutshell, here's how it works: the adversaries brute-force RDP access credentials and, in case of success, manually deposit the malicious binary onto the targeted host. If the HC7 ransomware infects a computer network, it harnesses the PsExec command to spread further and contaminate all the other machines on the same network. Obviously, rookies wouldn't implement a technique like that, so the threat actors are most likely proficient in what they do.
In order to figure out what to encrypt, the ransomware launches a stealth scan for files with a predefined set of extensions. This way, it gets a list of the most important data literally within minutes. Then, it applies a symmetric cipher called AES-256 to render the spotted entries inaccessible. A part of the file tweaking workflow is the concatenation of the .GOTYA extension to each one of the encoded items. Therefore, a sample image named 1.png will turn into 1.png.GOTYA that's off limits in terms of opening or editing. Note that filenames don't undergo any changes.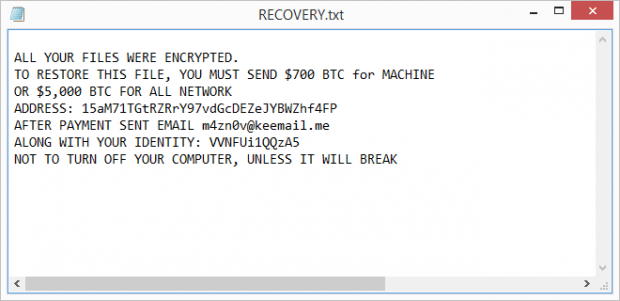 The HC7 virus also communicates with the victims in its own way. It drops a how-to document named RECOVERY.txt to explain what's going on and how to get the hostage files back. The contents of this ransom note is as follows, "All your files were encrypted. To restore this file, you must send $700 BTC for machine or $5,000 BTC for all network." In other words, the crooks draw a line between the price to recover data on a single computer and that for the entire enterprise network if that's the case. After the payment, the victim is instructed to send their unique ID to m4zn0v@keemail.me to get further directions.
Coughing up the ransom is, obviously, an unfavorable scenario for anyone infected. Firstly because that's a lot of money, and secondly – nobody can possibly guarantee successful decryption afterwards. So do everything alternative before going the ransom path.
HC7 GOTYA extension automatic removal
Extermination of this ransomware can be efficiently accomplished with reliable security software. Sticking to the automatic cleanup technique ensures that all components of the infection get thoroughly wiped from your system.
1. Download recommended security utility and get your PC checked for malicious objects by selecting the Start Computer Scan option
Download HC7 GOTYA ransomware remover
2. The scan will come up with a list of detected items. Click Fix Threats to get the extension and related infections removed from your system. Completing this phase of the cleanup process is most likely to lead to complete eradication of the plague proper. Now you are facing a bigger challenge – try and get your data back.
Methods to restore files encrypted by HC7 GOTYA extension
Workaround 1: Use file recovery software
It's important to know that the HC7 GOTYA extension creates copies of your files and encrypts them. In the meanwhile, the original files get deleted. There are applications out there that can restore the removed data. You can utilize tools like Stellar Data Recovery for this purpose. The newest version of the extension under consideration tends to apply secure deletion with several overwrites, but in any case this method is worth a try.
Download Stellar Data Recovery Professional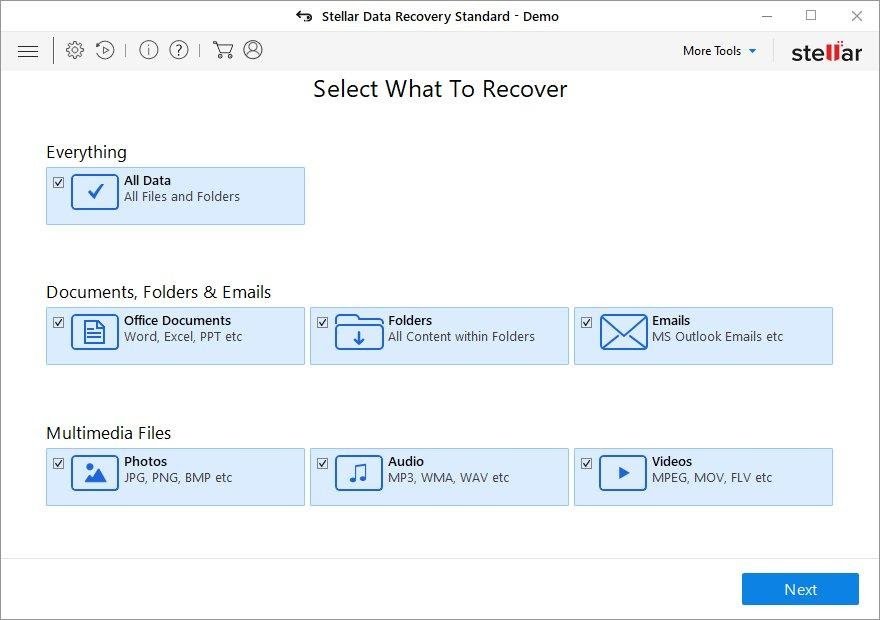 Workaround 2: Make use of backups
First and foremost, this is a great way of recovering your files. It's only applicable, though, if you have been backing up the information stored on your machine. If so, do not fail to benefit from your forethought.
Workaround 3: Use Shadow Volume Copies
In case you didn't know, the operating system creates so-called Shadow Volume Copies of every file as long as System Restore is activated on the computer. As restore points are created at specified intervals, snapshots of files as they appear at that moment are generated as well. Be advised this method does not ensure the recovery of the latest versions of your files. It's certainly worth a shot though. This workflow is doable in two ways: manually and through the use of an automatic solution. Let's first take a look at the manual process.
Use the Previous Versions feature
The Windows OS provides a built-in option of recovering previous versions of files. It can also be applied to folders. Just right-click on a file or folder, select Properties and hit the tab named Previous Versions. Within the versions area, you will see the list of backed up copies of the file / folder, with the respective time and date indication. Select the latest entry and click Copy if you wish to restore the object to a new location that you can specify. If you click the Restore button, the item will be restored to its original location.

Apply Shadow Explorer tool

This workflow allows restoring previous versions of files and folders in an automatic mode rather than by hand. To do this, download and install the Shadow Explorer application. After you run it, select the drive name and the date that the file versions were created. Right-click on the folder or file of interest and select the Export option. Then simply specify the location to which the data should be restored.

Verify whether HC7 GOTYA extension has been completely removed
Again, ransomware removal alone does not lead to the decryption of your personal files. The data restore methods highlighted above may or may not do the trick, but the extension itself does not belong inside your computer. Incidentally, it often comes with other extension, which is why it definitely makes sense to repeatedly scan the system with automatic security software in order to make sure no harmful remnants of this extension and associated threats are left inside Windows Registry and other locations.
No ratings yet.