Browser hijackers often pose as something worthwhile that will enhance different facets of one's Internet experience. It's clear why – nobody would ever install these pseudo browser helper objects otherwise. This applies to the extension called GoGameGo, also referred to as Go Game Go. It pretends to provide easy, quick and unlimited access to free games, allegedly allowing users to play them instantly from web pages. What happens in fact, though, is this add-on intercepts web traffic and reroutes it to an annoying search provider.
What is GoGameGo new tab?
While claiming to make gaming fans' online routine more pleasurable, the GoGameGo extension wreaks havoc with their browsing preferences. The intrusive essence of this add-on comes down to defining the search.mysearch.com website as one's default new tab page and homepage in Chrome. In the average installation scenario, users are not properly informed of this side effect. The contamination usually takes place when people are installing something harmless, such as a video player, file downloader or a purportedly critical Adobe Flash Player update bundled with the potentially unwanted extra. In this case, the only reasonable route is to decline the recommended setup option and select the custom one instead. This will typically allow a user to view what's under the umbrella of the supposedly benign installation and uncheck things like GoGameGo.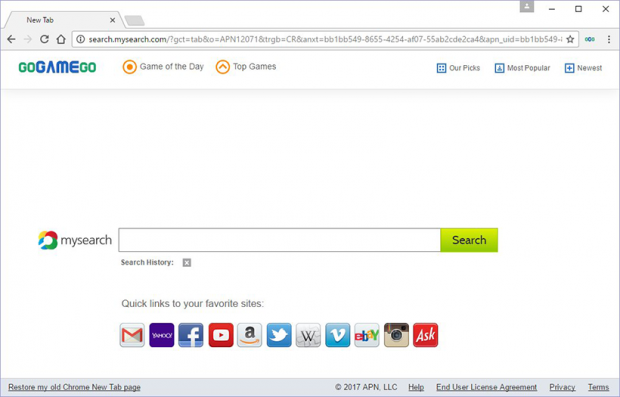 So the main impact of the GoGameGo Chrome New Tab application is as follows: whenever the user opens their browser they encounter search.mysearch.com page popping up instead of their desired homepage. The same happens when the person opens a new tab. That's because the adware overrides custom browser settings, which basically means that the admin no longer controls what sites he or she visits in the course of the routine online activity. The imposed search system returns results with targeted advertisements at the top and the bottom of every SERPS page. Although at first sight this fact doesn't appear alarming whatsoever, it points to quite a serious privacy problem. The malicious code collects data related to a victim's web surfing, which is why the ads are accurate. It knows what websites the infected user visits, what searches they run, what bookmarks they make, and possibly even sensitive details like entered logins and passwords for various Internet accounts. All of these elements of the compromise add up to a critical mass that requires urgent action.
The GoGameGo virus may also display sponsored information on regular sites other than its own search provider. A variety of deals, coupons, price comparisons, interstitial advertisements and in-text links may start filling up web pages. This superfluous content will cause the browser to operate slower and even crash once in a while. Uninstalling the malicious application tends to be a hard task. It may not be listed on Control Panel. Disabling the add-on directly in the web browser has a short-time effect because of a scheduled task that will re-activate it. To perform the cleanup right, users are commended to follow a peculiar adware removal procedure.
GoGameGo new tab adware automatic removal
The extermination of GoGameGo new tab hijacker can be efficiently accomplished with reliable security software. Sticking to the automatic cleanup technique ensures that all components of the infection get thoroughly wiped out from your system.
1. Download recommended security utility and get your PC checked for malicious objects by selecting the Start Computer Scan option
Download GoGameGo new tab remover
2. The scan will come up with a list of detected items. Click Fix Threats to get the popup removed from your system. Completing this phase of the cleanup process is most likely to lead to complete eradication of the infection. However, it might be a good idea to consider ascertaining the adware is gone for good.
Remove GoGameGo new tab adware using Control Panel
Open Control Panel. On Windows XP / Windows 8, go to Add or Remove Programs. If your OS is Windows Vista / Windows 7 / Windows 10, choose Uninstall a program
GoGameGo new tab adware removal by resetting the affected browser
Please take into consideration that as effective as it is, the procedure of restoring browser defaults will lead to the loss of personalized settings such as saved passwords, bookmarks, browsing history, cookies, etc. In case you are not certain this outcome is suitable despite its obvious efficiency, it's advised to follow the automatic removal method described in one of the previous sections of this tutorial.
Reset Google Chrome
Reset Mozilla Firefox
Click on Help menu and select Troubleshooting Information from the drop-down list, or type about:support in the URL field
Reset Internet Explorer
Verify whether GoGameGo new tab adware has been completely removed
For certainty's sake, it's advised to repeatedly run a scan with the automatic security software in order to make sure no harmful remnants of this hijacker are left inside Windows Registry and other operating system locations.
No ratings yet.