In today's world with freedom of choice at the forefront of everything, there seems to be no room for obtrusion. However, the makers of the Everness app chose to go a different route. This program stealthily modifies web browsing settings on a computer it's installed on so that victims keep bumping into annoying ads when online. This characteristic feature makes it an adware object that does not belong inside a healthy PC.
What is the Everness virus?
As far as commonplace adware activity is concerned, the Everness baddie is fairly prosaic. It interferes with a victim's web surfing routine by altering custom browsing configuration as well as DNS settings. This behavior allows the offending applet to embed sponsored content into arbitrary web pages where no ads would normally be displayed. At this point, it's important to differentiate between e-advertising that webmasters willingly opt for, and marketing elements injected by malicious code. In the latter scenario, ads are defiantly superfluous and tweak the look and feel of sites, simply because they are never generated with the user in mind. The problem with ads by Everness is isolated to machines infected with the corresponding PUP (potentially unwanted program).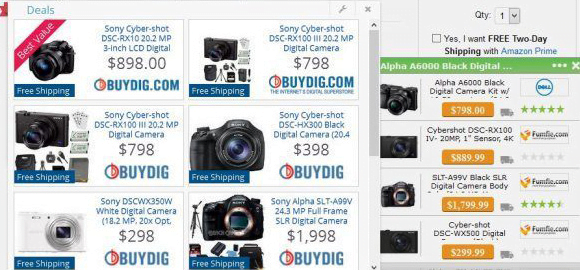 Due to its hostile features, the Everness virus is capable of adding a virtual layer to the normal look of websites. It means that even though random space within a web page may appear blank, clicking on it will fire up scripts which, in their turn, trigger redirects to third-party resources. This layer, however, isn't entirely inconspicuous and also includes various content shown on top of regular web page layouts. While hovering above the original text and images, these objects diminish user experience and have to be closed over and over. One of the problems is that every clicking event aimed to make an ad go away will spawn one or several more similar items. So it's a loop to a certain extent. Overall, Everness ads include coupons, deals, freebies, comparison shopping boxes, popups, banners, in-text links, and full-page interstitial advertisements.
There's no reinventing the wheel in the way the Everness virus is making the rounds. The crooks distribute it via bundling, a software deployment framework involving compound installation clients. As a result, users catch this cyber-cold when installing harmless products, such as media processing utilities, file downloaders, codecs, system optimization tools and other freeware. The default setup option in this case presupposes that the main application is accompanied by one or a few extras, some of which are malicious. If Everness has made it into a computer and is wreaking havoc with Internet surfing big time, it's absolutely necessary to get rid of it by means of a specially crafted adware eradication procedure.
Everness ads automatic removal
The extermination of Everness adware can be efficiently accomplished with reliable security software. Sticking to the automatic cleanup technique ensures that all components of the infection get thoroughly wiped out from your system.
1. Download recommended security utility and get your PC checked for malicious objects by selecting the Start Computer Scan option
2. The scan will come up with a list of detected items. Click Fix Threats to get the ads removed from your system. Completing this phase of the cleanup process is most likely to lead to complete eradication of the infection. However, it might be a good idea to consider ascertaining the ads is gone for good.
Remove Everness ads using Control Panel
Open Control Panel. On Windows XP / Windows 8, go to Add or Remove Programs. If your OS is Windows Vista / Windows 7 / Windows 10, choose Uninstall a program
Everness ads removal by resetting the affected browser
Please take into consideration that as effective as it is, the procedure of restoring browser defaults will lead to the loss of personalized settings such as saved passwords, bookmarks, browsing history, cookies, etc. In case you are not certain this outcome is suitable despite its obvious efficiency, it's advised to follow the automatic removal method described in one of the previous sections of this tutorial.
Reset Google Chrome
Reset Mozilla Firefox
Click on Help menu and select Troubleshooting Information from the drop-down list, or type about:support in the URL field
Reset Internet Explorer
Verify whether Everness ads has been completely removed
For certainty's sake, it's advised to repeatedly run a scan with the automatic security software in order to make sure no harmful remnants of this adware are left inside Windows Registry and other operating system locations.
No ratings yet.