Obviously, browser redirects and popup ads are on nobody's wish list, and yet these nuisances happen a lot in today's Internet ecosystem. The pest referred to as the Ecleneue virus is one of the latest infections targeting web browsers and flooding the victims' online experience with annoying and sometimes even embarrassing popups paired with frequent forwarding of the traffic to potentially harmful websites.
What is the Ecleneue virus?
The Ecleneue virus is a multi-pronged malicious application that zeroes in on web browsers and causes the victims a great deal of dissatisfaction due to recurrent redirects and splash screens. It typically manifests itself through ads that appear within a current browser window and say www1.ecleneue.com, www2.ecleneue.com or similar, with the digit in first part of the URL varying from time to time. The content promoted this way ranges from adult materials to various e-gambling services with poor reputation. On top of that, the aftermath of the contamination tends to include redirects of the web traffic to a series of affiliated sites. Most of these instances involve such domains as targeli.cool, maranhesduve.club, and the dubious cobalten.com resource. The infected users may encounter these auxiliary sites for a fraction of a second – before they end up on a fishy landing page containing sponsored information.
At first sight, the ties between these different sites may appear somewhat confusing. In fact, entering Ecleneue.com in a browser will return a valid site for AdFly (AdF.ly), a URL shortening service. It offers a moneymaking model that seems too good to be true. All it takes to start earning is registering an account, shrinking web page addresses, and driving hits to the resulting locations. The most likely motivation of the unscrupulous authors of this platform is to redistribute the Internet traffic before it reaches the final site. In particular, there will be in-between domains surreptitiously inserted along the route, such as the ones mentioned above. All of these unique hits count in the overall traffic monetization scheme backed by Ecleneue.com. The caveat, however, is that innocent users suffer in the long run, discovering that their Internet routine is being harshly tampered with. But how exactly are the victims forwarded to the shady pages? And what is it that generates the unwelcome ads in Chrome, Firefox, and Internet Explorer? The answers are a bit more intricate than you might think.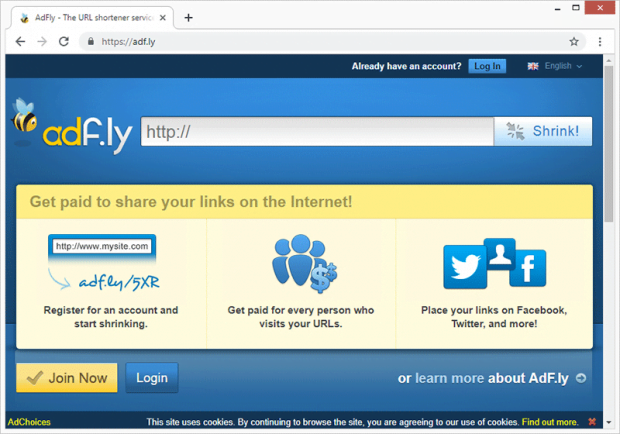 The attack chain begins with a malicious app pushed by means of a sketchy software bundling hoax. People get in trouble by downloading and installing freeware accompanied by the Ecleneue virus. The installation client is designed to conceal the dodgy component underneath its default mode. Most users are okay with the recommended setup option, because it's easy and fast. What they forget about, though, is that there might be an electronic ambush that will get them infected unless they read the fine print. This is how the malware in question is doing the rounds. Once inside, the baddie persistently triggers redirects to www1.ecleneue.com (www2.ecleneue.com, www3.ecleneue.com, etc.). Each time this happens, an alert will appear asking to allow notifications. This is a growingly common trick used by adware operators recently. Once the victim clicks OK on that dialog, they unknowingly permit the site to display advertisements during their browsing sessions and to exploit the browsing activity in other ways.
In the upshot of this stratagem, the victim will be coming across popup ads promoting porn and other NSFW content. Another side effect comes down to the above-mentioned redirects occurring over and over. It's worth pointing out that these noxious events won't discontinue on their own, and it takes specific action on the victim's end to sort it all out. Here's a full set of instructions that address the Ecleneue virus issue for good.
Ecleneue virus automatic removal
The extermination of Ecleneue.com redirect virus can be efficiently accomplished with reliable security software. Sticking to the automatic cleanup technique ensures that all components of the infection get thoroughly wiped out from your system.
1. Download recommended security utility and get your PC checked for malicious objects by selecting the Start Computer Scan option
2. The scan will come up with a list of detected items. Click Fix Threats to get the adware removed from your system. Completing this phase of the cleanup process is most likely to lead to complete eradication of the infection. However, it might be a good idea to consider ascertaining the malware is gone for good.
Remove Ecleneue.com redirect virus using Control Panel
Open Control Panel. On Windows XP / Windows 8, go to Add or Remove Programs. If your OS is Windows Vista / Windows 7, choose Uninstall a program
Look down the list and locate Ecleneue or another app that appears fishy. Click the Uninstall/Change (Change/Remove) option to get the intruder removed if spotted
Ecleneue.com redirect virus removal by resetting the affected browser
Please take into consideration that as effective as it is, the procedure of restoring browser defaults will lead to the loss of personalized settings such as saved passwords, bookmarks, browsing history, cookies, etc. In case you are not certain this outcome is suitable despite its obvious efficiency, it's advised to follow the automatic removal method described in one of the previous sections of this tutorial.
Remove Ecleneue pop ups from Google Chrome
Click on the Chrome menu icon and select Settings
Locate the Advanced option under Settings and click on it to expand the menu. Then, pick the Reset button at the bottom
When a new screen appears, hit Reset once again
Chrome will now display a confirmation dialog box listing the types of data that will be lost if you proceed. Read the message carefully and, if you're sure, click Reset
Remove Ecleneue.com redirect from Mozilla Firefox
Click on Help menu and select Troubleshooting Information from the drop-down list, or type about:support in the URL field
On the Troubleshooting Information screen, click Refresh Firefox option and confirm the procedure on another dialog
Remove Ecleneue popup virus from Internet Explorer
In IE, go to Tools and select Internet Options from the list
Hit the Advanced tab and click on the Reset option
IE will now display Reset Internet Explorer Settings box, where you should put a checkmark next to Delete personal settings option and click Reset at the bottom
Verify whether the Ecleneue virus has been completely removed
For certainty's sake, it's advised to repeatedly run a scan with the automatic security software in order to make sure no harmful remnants of this adware are left inside Windows Registry and other operating system locations.
5/5 (2)