Cybercrime doesn't necessarily come down to creating and distributing super-complex malware that makes a mess of users' computers or mobile devices. It's also about social engineering in its pure form, which is a relatively effortless vector that might be just as effective. For instance, DigitsPro email scam is aimed at defrauding people of money by forging a failed delivery notification.
What is the DigitsPro email scam?
Receiving a fraudulent email is far from being an offbeat encounter these days. There are tons of such hoaxes circulating in an attempt to wheedle out users' sensitive credentials or ripping them off. DigitsPro email scam isn't unique in terms of the tactic but it still stands out from the crowd due to its wide reach across the world. And yet, the vast majority of potential victims are in France and Australia. The theme of this stratagem is ridiculously prosaic: it tries to fool recipients into thinking that their package has been detained in a terminal and demands a small extra shipping fee so that the delivery is completed the way it should be. The amount varies, with users residing in Europe being told to pay €1.00 and would-be victims in other countries being duped into submitting $5.00 for the nonexistent service.
Whereas the sender, DigitsPro, is a common denominator in all of these cases, there are different email addresses behind this fictitious entity. Here are a few of them reported to date: w6065y4@bbscanner.com, cocobrouartdu06@outlook.fr, and Qq1LVKa@memberloyaltyprogram.com. It's worth mentioning that in some scenarios the recipients are instructed to click an additional link that supposedly leads to a web page providing additional information on the issue. The resulting URL is turboanalysis.net/survey, followed by a random-looking tail consisting of alphanumeric characters. Either way, the text of the faux message is as follows:
Your package [order number] is on the way

Status

Handling – distribution center [city name]
$5.00 shipping costs have not been paid
Delivery takes place after payment

Pay shipping costs
In other words, the fraudulent email tells the user that the delivery of whatever they ordered is unsuccessful because it presupposes that a complementary amount is paid. If the "Pay shipping costs" button is clicked, the victim will be forwarded to a fishy payment processing page at ecogadgetslive.com. The domain name is prepended with the person's country identifier and concatenated with a transaction ID, so it will look like fr.ecogadgetslive.com/?br=[random]&transaction_id=[random].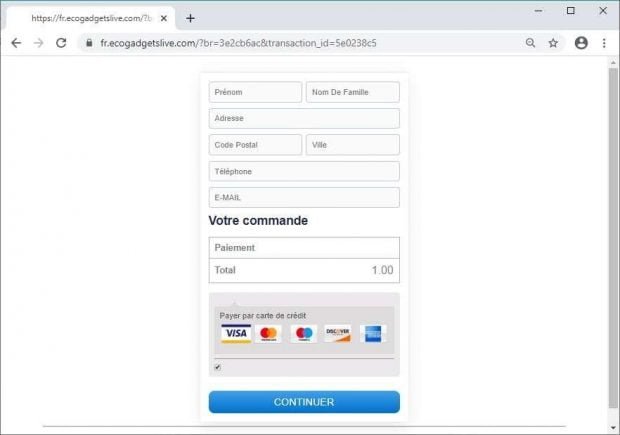 The size of the fee is pre-configured to show up on the landing page allegedly tasked with completing the transaction. It also provides five payment options to choose from, including Visa, Mastercard, and Discover card. A quick look at the sketchy site suffices to understand what risks it poses aside from the obvious financial swindle. It contains several fields where the user is supposed to enter their personal details to move on with the payment, such as first and last name, full address, telephone number, and email. Obviously, this data shouldn't be disclosed to any third party, not to mention that it doesn't belong in the hands of con artists. Combined with credit card info, it can enable the crooks to perform identity theft and even pilfer funds from one's bank account.
If you have received an email from DigitsPro letting you know about a detained package and demanding money to address the issue, the main thing is to abstain from doing what it says. This is a fake message designed to obtain your sensitive information and brainwash you into paying a feigned fee. There is one more thing to consider. If you have clicked any links in the DigitsPro scam email or allowed notifications on affiliated websites, then your device may have been infected with malware. Therefore, it makes sense to check your system for infections as outlined below.
DigitsPro email automatic removal
The extermination of DigitsPro scam can be efficiently accomplished with reliable security software. Sticking to the automatic cleanup technique ensures that all components of the infection get thoroughly wiped out from your system.
1. Download recommended security utility and get your PC checked for malicious objects by selecting the Start Computer Scan option
2. The scan will come up with a list of detected items. Click Fix Threats to get the email removed from your system. Completing this phase of the cleanup process is most likely to lead to complete eradication of the infection. However, it might be a good idea to consider ascertaining the email is gone for good.
4.17/5 (6)