Learn detailed information about the malicious browser extension called BloCkUTubeAD that is known to distort one's web experience by displaying a variety of advertisements instead of actually blocking ads, which it should be doing. Also, this guide provides step-by-step guidance regarding the removal of this persistent adware.
BloCkUTubeAD, stated to be "installed by enterprise policy", is abominable adware that leaves very little room for user-defined browser preferences implementation. It installs as an extension, or browser add-on, and at first sight appears to be just like any random browser helper object out there. But the 'fun' part about this program involves a few undoubtedly annoying features: surfing the web becomes an excessively add-flooded process; and manual uninstall simply won't work – the malign software always comes back after the browser gets re-launched. It's namely the astonishing persistence and various noxious side effects that make affected users want to get rid of BloCkUTubeAD shortly after it was installed.
By the way, speaking of the propagation of this infection – it's fairly manifold. While in most cases people get this adware as an unannounced bundle to freeware applications such as multimedia software or extras that go with torrent files, some simply get tricked into downloading it because of the features it's claimed to accommodate. To be precise, BloCkUTubeAD is marketed as an app that prevents advertisements from being displayed when you're on YouTube. What happens instead is this add-on generates popup ads signed "brought by BloCkUTubeAD", in-text advertisements, or even pop-under windows containing sponsored commercial information from the interested parties.
One more facet of the collateral damage called forth by this virus is the fact that it's proven to harvest the user's PID (personally identifiable data) while running on a computer. The information of interest includes email addresses, operating system and browser configuration, Internet habits, etc. Why? Primarily because the adware needs to know what types of targeted advertisements to deliver. Anyway, this is clearly privacy infringing activity.
As mentioned, BloCkUTubeAD is a hard nut to crack when it comes to removal. The regular uninstall means do not do the trick due to technical peculiarities hard-coded into this adware, therefore illusions about effectively disabling the respective add-on via browser menu, or uninstalling the culprit program under Control Panel alone, barely withstand criticism. It's hence an optimal solution to employ a mix of cleanup methods and go somewhat more radical on this browser bug.
BloCkUTubeAD automatic removal
Extermination of BloCkUTubeAD popup virus can be efficiently accomplished by using reliable security software. Sticking to the automatic cleanup technique ensures that all components of the infection get thoroughly wiped out from your system.
1. Download recommended security utility and get your PC checked for malicious objects by selecting the Start Computer Scan option
2. The scan will come up with a list of detected items. Click Fix Threats to get BloCkUTubeAD removed from your system. Completing this phase of the cleanup process is most likely to lead to complete eradication of the infection. However, it might be a good idea to consider ascertaining the malware is gone for good
Remove BloCkUTubeAD using Control Panel
• Open Control Panel. On Windows XP / Windows 8, go to Add or Remove Programs. If your OS is Windows Vista / Windows 7, choose Uninstall a program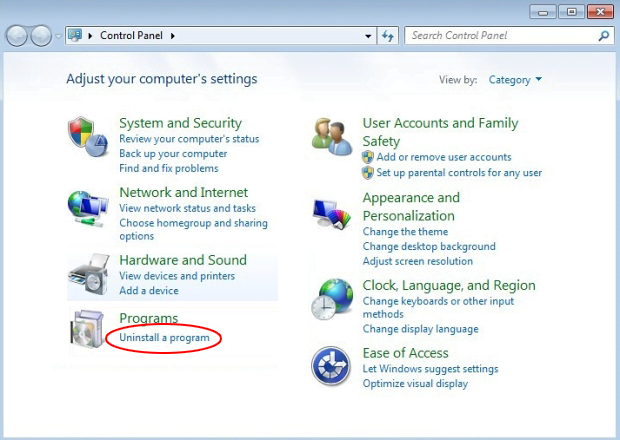 • Look for BloCkUTubeAD on the list and, if found, click Uninstall/Change option to get it removed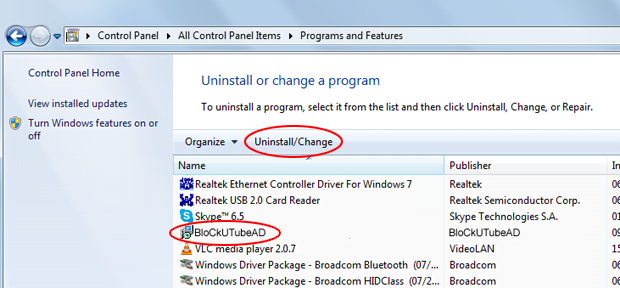 BloCkUTubeAD virus removal through browser reset
Please take into consideration that as effective as it is, the procedure of restoring browser defaults will lead to the loss of personalized settings such as saved passwords, bookmarks, browsing history, cookies, etc. In case you are not certain this outcome is suitable despite its obvious efficiency, it's advised to follow the automatic removal method described in one of the previous sections of this tutorial.
Reset Mozilla Firefox
• Click on Help menu and select Troubleshooting Information from the drop-down list, or type about:support in the URL field

• On the Troubleshooting Information screen, click Reset Firefox option

Reset Internet Explorer
• In IE, go to Tools and select Internet Options from the list

• Hit the Advanced tab and click on the Reset option

• IE will now display Reset Internet Explorer Settings box, where you should put a checkmark next to Delete personal settings option and click Reset at the bottom

Reset Google Chrome
• Click on the Chrome menu icon and select Settings

• Locate Show advanced settings option and click on it

• Now you need to click on the Reset browser settings button at the bottom

• Chrome will display a confirmation dialog box listing the types of data that will be lost if you proceed. Read the message carefully and, if you're sure, click Reset
Verify whether BloCkUTubeAD has been completely removed
For certainty's sake, it's advised to repeatedly run a scan with the automatic security software in order to make sure no harmful remnants of the BloCkUTubeAD adware are left inside Windows Registry and other system locations
No ratings yet.