Appsquare.net appears in your browser or browsers. This makes the difference.
In the first case, the website benefits from the support provided by its affiliate. The latter uses embedded JavaScript to land users at the target URL. In plain English, your browser makes the redirect possible. It is not that the browser itself engages in the scam. It just runs too moderate ad-blocking policy. Its support may respond to the abuse reports on website redirects. The most likely outcome will be the ad affiliate blocked. This terminates the scam for a while only though. The malicious affiliate only needs to pick up a new ID. The unwanted redirects restore very quickly.
The second case implies adware is onboard. It is therefore not about any browser tolerating too much annoying redirects. The removal of appsquare.net is to detect and clean the adware. It is good to have a reliable antimalware suite that would remove appsquare.net immediately. Moreover and most likely, a proper security solution would simply block the infection on the first attempt to infiltrate into your device.
The users concerned do not welcome appsquare.net. In a nutshell, the website itself is a list of rather useless, mostly harmless and quite annoying apps and products. The list presents those items in clickable formats. As a rule, a link leads to Google App Store. The apps thus featured might be tricky, and they definitely impose an extra level of marketing noise.
Appsquare.net aims at building its inbound traffic. The most obvious way it follows to monetarize the traffic harnesses redirects to an array of app download links. However, the website does not let every visitor into its page.
Appsquare.net processes each access request for a while. Typically, it denies access unless the request originates from its trusted partner. This might be a code sent by the adware installed on a compromised device or a request from a recognized redirect point. Such routine suggests malicious intent as the website tends to be unavailable for non-custom requests. The URL is known to collect excessive information and drop its custom app classified a browser hijacker.
To get rid of appsquare.net redirects, popups and browser hijacker, as appropriate, kindly consult the tips and tools section below.
Appsquare.net hijacker automatic removal
The extermination of Appsquare.net popup can be efficiently accomplished with reliable security software. Sticking to the automatic cleanup technique ensures that all components of the infection get thoroughly wiped out from your system.
1. Download recommended security utility and get your PC checked for malicious objects by selecting the Start Computer Scan option
Download Appsquare.net remover
2. The scan will come up with a list of detected items. Click Fix Threats to get the redirect removed from your system. Completing this phase of the cleanup process is most likely to lead to complete eradication of the infection. However, it might be a good idea to consider ascertaining the hijacker is gone for good.
Remove Appsquare.net hijacker using Control Panel
Open Control Panel. On Windows XP / Windows 8, go to Add or Remove Programs. If your OS is Windows Vista / Windows 7 / Windows 10, choose Uninstall a program
Appsquare.net hijacker removal by resetting the affected browser
Please take into consideration that as effective as it is, the procedure of restoring browser defaults will lead to the loss of personalized settings such as saved passwords, bookmarks, browsing history, cookies, etc. In case you are not certain this outcome is suitable despite its obvious efficiency, it's advised to follow the automatic removal method described in one of the previous sections of this tutorial.
Reset Google Chrome
Reset Mozilla Firefox
Click on Help menu and select Troubleshooting Information from the drop-down list, or type about:support in the URL field
Reset Internet Explorer
Verify whether Appsquare.net hijacker has been completely removed
For certainty's sake, it's advised to repeatedly run a scan with the automatic security software in order to make sure no harmful remnants of this popup are left inside Windows Registry and other operating system locations.
Appsquare.net hijacker removal
What you need to do is uninstall the application that's causing trouble. As it has been mentioned, however, disabling and removing the virus in regular mode is to no avail, so the steps below are must-follow.
1. Boot the device into safe mode
 – Press and hold the Power button until the respective screen pops up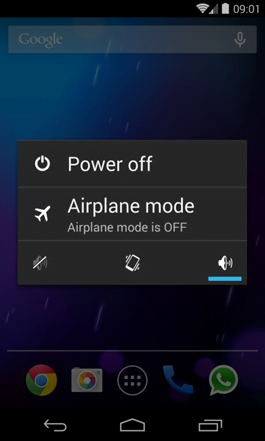 2. Now tap and hold the option that says Power off. Depending on the vendor and the phone model, the methods can vary. If nothing happens as a result of the above manipulations, power down the device, then press and hold the Volume Down and Volume Up buttons simultaneously while it's starting back up.
3. Confirm rebooting into safe mode by tapping OK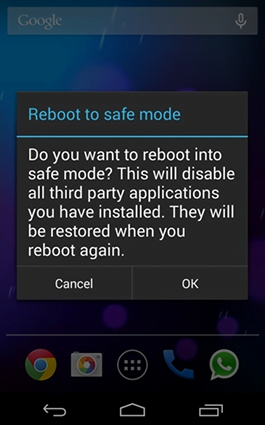 4. When in safe mode, go to Settings and select Apps

5. Look down the list of programs and locate a suspicious app or apps that were recently installed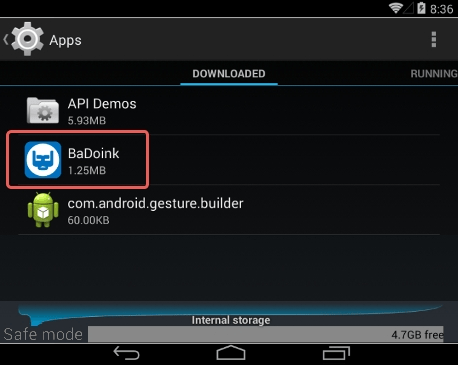 6. Tap each potentially unwanted app in turn and select the Uninstall option. If this button is not active, try Force stop first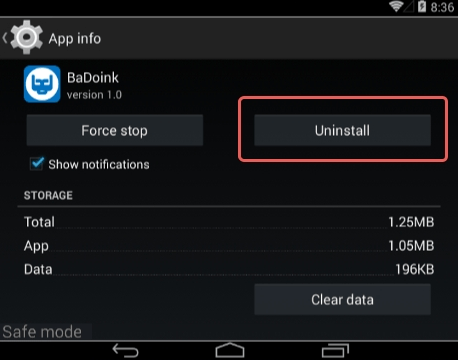 7. Tap OK on the confirmation dialog to uninstall the potentially unwanted app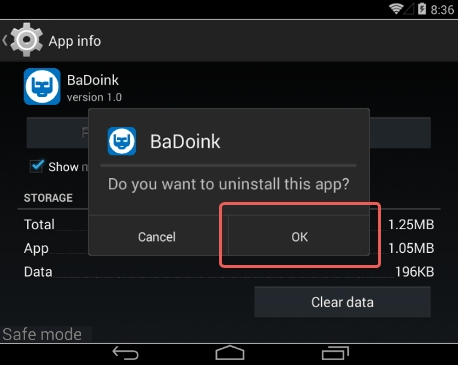 8. Restart into standard mode. The Appsquare.net hijacker should have now vanished from your Android device. You might also want to consider installing a mobile security solution to prevent attacks of this sort further on.
Highly recommended: scan your Android device for issues
1. Download and install AMC Security Pro app onto your device. This is a one-stop solution to keep your Android gadget's performance at its peak and ensure effective protection against known and zero-day mobile threats. Once the tool is up and running, go ahead and tap the SCAN button.
2. The scan report will list the detected issues, including PUAs (potentially unwanted applications), malware, and memory hogs such as junk and big files that might not belong on your device. Tap the CLEAN button at the bottom to complete the removal.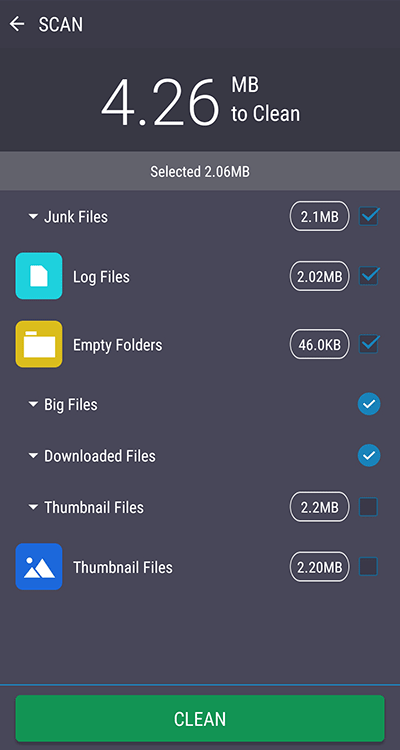 Now that the cleanup is done, check your smart device for malicious activity that brought you to this guide in the first place. Also, consider keeping this cleanup and maintenance tool on board as it's equipped with additional useful features, such as real-time web security, privacy advisor, anti-phishing, payment security, battery saver, and more.
3.33/5 (3)