With a slew of rogue web search providers out there, Amisites stands out from the pack due to its prevalence. Numerous Windows users are currently confronted with an issue where their Internet surfing preferences undergo a number of tweaks to reroute traffic to amisites.com in a recurrent fashion. As per security analysis of the predicament, this happens because of a browser hijacker that installs through social engineering and bypasses authorization while changing one's browser defaults.
What is Amisites?
Amisites – is camouflaged as a commonplace search engine. It claims to provide online lookup features with categorization by text, images, videos and news – the essentials of legitimate sites of this sort. Upon some closer scrutiny, though, it turns out that the page is a dummy provider that outsources the entire search capacity to another service. If there is no functional value under the hood, why does Amisites even exist? The answer lies in the framework of traffic monetization. The crooks behind this phony entity hijack people's web browsers to make them hit the unwelcome landing page over and over. The more users view ads displayed on the site, the more pay-per-view revenue its operators get. To top it all off, the infection tends to collect its victims' personally identifiable data, including their browsing history, bookmarks, and possibly even highly sensitive things like logins and passwords.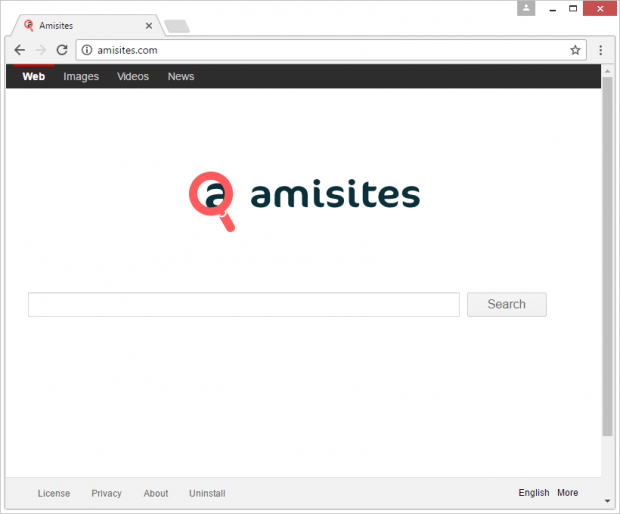 Amisites arrives at its filthy goals by interfering with the infected users' custom browser settings. Furthermore, it is a cross-browser hijacker supporting Chrome, Firefox and Internet Explorer. This characteristic makes the pest a universal tool for exploiting online navigation environment on computers. The plugin or extension added to a compatible browser instantly changes the following parameters: the homepage, new tab page, and preferred search engine. All of these settings will henceforth default to amisites.com. It's problematic to undo these alterations manually, because the virus creates a scheduled task that automatically makes the wrong values take effect shortly afterwards. There is no direct harm in visiting amisites.com – it contains no perpetrating scripts, exploits or drive-by downloads. When an arbitrary query is entered in the search box, the fake provider returns results in a new tab, but the URL will be completely different. Therefore, the hijacker acts as a meaningless go-between that points to a real search engine in the long run.
The Amisites malware proliferates predominantly by means of bundling. Its installer accompanies the setup of third-party software. These are mostly applications whose devs chose to distribute them on a freeware basis. This tactic may seem entirely selfless, but it can be a profitable business model as long as the installation clients incorporate other products. That's the case with the virus in question. When opting into the default, or recommended, installation method, people may unknowingly authorize potentially unwanted programs to get into their PCs along the way. If this happens, the only way to prevent browser redirects to amisites.com is to get rid of the offending code proper and reset the malfunctioning web browser.
Amisites.com adware automatic removal
The extermination of Amisites.com hijacker can be efficiently accomplished with reliable security software. Sticking to the automatic cleanup technique ensures that all components of the infection get thoroughly wiped out from your system.
1. Download recommended security utility and get your PC checked for malicious objects by selecting the Start Computer Scan option
2. The scan will come up with a list of detected items. Click Fix Threats to get the adware removed from your system. Completing this phase of the cleanup process is most likely to lead to complete eradication of the infection. However, it might be a good idea to consider ascertaining the adware is gone for good.
Remove Amisites.com adware using Control Panel
Open Control Panel. On Windows XP / Windows 8, go to Add or Remove Programs. If your OS is Windows Vista / Windows 7 / Windows 10, choose Uninstall a program
Amisites.com adware removal by resetting the affected browser
Please take into consideration that as effective as it is, the procedure of restoring browser defaults will lead to the loss of personalized settings such as saved passwords, bookmarks, browsing history, cookies, etc. In case you are not certain this outcome is suitable despite its obvious efficiency, it's advised to follow the automatic removal method described in one of the previous sections of this tutorial.
Reset Google Chrome
Reset Mozilla Firefox
Click on Help menu and select Troubleshooting Information from the drop-down list, or type about:support in the URL field
Reset Internet Explorer
Verify whether Amisites.com adware has been completely removed
For certainty's sake, it's advised to repeatedly run a scan with the automatic security software in order to make sure no harmful remnants of this hijacker are left inside Windows Registry and other operating system locations.
No ratings yet.