Tips to address recurring changes of browser preferences caused by Nationzoom.com adware are comprehensively highlighted in this tutorial. Along with the cleanup advice proper, you will learn how this potentially unwanted software might have infiltrated your computer and what goals it pursues.
Modifying the configuration of one's browser should by all means be the prerogative of the user. The authors of Nationzoom.com have obviously disregarded this undeniable fact when elaborating their business model though, enabling their product to set certain browser preference values without asking the victim. In the event you get affected by this hijacker, your homepage will automatically change to Nationzoom.com, and the default search provider will be replaced by Search.yahoo.com. Furthermore, the adware is known to append the Target field of shortcuts for the web browsers installed on your PC and add a new entry to the Start Menu. This means that the influence of this unwanted code upon your system is fairly large-scale, and so are the ill-disposed ambitions of the individuals who created it.
Insight into a number of infection scenarios testifies to the fact that Nation Zoom initially comes as a component of freeware downloads, for example media player software or the respective updates, alleged security apps, browser toolbars or BHOs (browser helper objects). Some of such known 'distributors' include VPlay, Nation Zoom Browser Protection, Wsys Control, eSave Security Control, and Desk 365. In this context it's worth mentioning that the presence of potentially unsafe bundle to these installs is not necessarily stated in a straightforward fashion, so it's always a good idea to check for additional offers and deselect the stuff you don't want on your machine.
Although there isn't really any tangible computer risk associated with Nation Zoom hijacker's activity, its intrusive interference quickly becomes unbearable. Also, the adware collects information on your search activity, which is something deemed pretty much 'fingerprintable' nowadays; so the privacy issue gets acute here. Regarding the motivation behind this app's creators, it's simple: the use of certain online services being forcibly pushed, as well as displaying ads on Nationzoom.com – these are moneymaking techniques that are generously rewarded by interested third parties, that is, advertisers.
The removal section of this article will shed light on your options for making this adware go away for good. Please review the information carefully and apply the method you prefer.
Nation Zoom automatic removal
Extermination of Nationzoom.com virus can be efficiently accomplished via the use of reliable security software. Sticking to the automatic cleanup technique ensures that all components of the infection get thoroughly wiped out from your system.
1. Download recommended security utility and get your PC checked for malicious objects by selecting the Start Computer Scan option
2. The scan will come up with a list of detected items. Click Fix Threats to get Nation Zoom removed from your system. Completing this phase of the cleanup process is most likely to lead to complete eradication of the infection. However, it might be a good idea to consider ascertaining the malware is gone for good
Remove Nationzoom.com using Control Panel's functionality
• Open Control Panel. On Windows XP / Windows 8, go to Add or Remove Programs. If your OS is Windows Vista / Windows 7, choose Uninstall a program

• Look for any software on the list that may be potentially associated with Nation Zoom or which you believe should not be there (Wsys Control, eSave Security Control, VPlay, Nation Zoom Browser Protection, Desk 365, etc.) and click Uninstall/Change option to get those removed.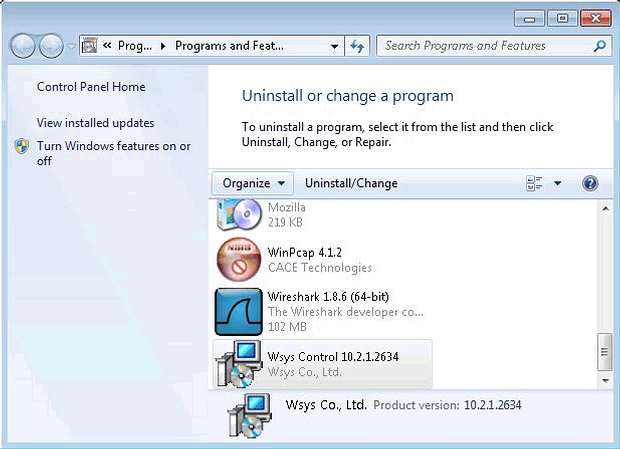 Get rid of Nationzoom.com virus by resetting your web browser
Please take into consideration that as effective as it is, the procedure of restoring browser defaults will lead to the loss of personalized settings such as saved passwords, bookmarks, browsing history, cookies, etc. In case you are not certain this outcome is suitable despite its obvious efficiency, it's advised to follow the automatic removal method described in one of the previous sections of this tutorial.
Reset Mozilla Firefox
• Click on Help menu and select Troubleshooting Information from the drop-down list, or type about:support in the URL field

• On the Troubleshooting Information screen, click Reset Firefox option

Reset Internet Explorer
• In IE, go to Tools and select Internet Options from the list

• Hit the Advanced tab and click on the Reset option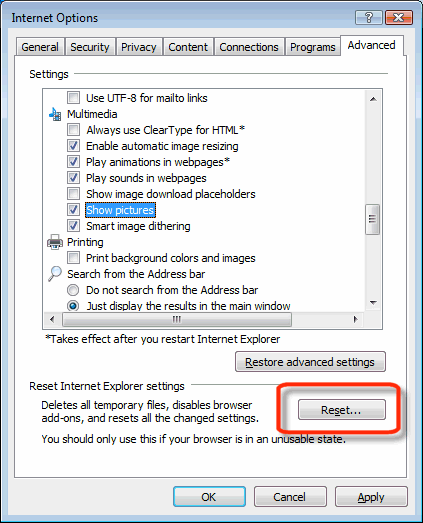 • IE will now display Reset Internet Explorer Settings box, where you should put a checkmark next to Delete personal settings option and click Reset at the bottom

Reset Google Chrome
• Click on the Chrome menu icon and select Settings

• Locate Show advanced settings option and click on it

• Now you need to click on the Reset browser settings button at the bottom

• Chrome will display a confirmation dialog box listing the types of data that will be lost if you proceed. Read the message carefully and, if you're sure, click Reset

Verify whether Nation Zoom adware has been completely removed
For certainty's sake, it's advised to repeatedly run a scan with the automatic security software in order to make sure no harmful remnants of this adware are left inside Windows Registry and other system locations