This tutorial comprises an all-around profile of the Search Protect browser hijack malware. Learn how this virus is related to the infamous Conduit adware set, information on its distribution methods as well as the details on how this threat can be removed from an affected computer.
Along with web surfing facilitation objectives, browser extensions may as well bear a fair amount of malicious features. This matter has been particularly relevant for the last few years which have been marked by numerous adware samples being disguised as legitimate browser helper objects (BHOs). Search Protect by Conduit is currently on the list of top online threats of this kind. Presented and marketed as an add-on allowing for custom configuring, this infection adds quite a bit of turmoil to the user if installed.
A significant problem in this context has to do with multiple occasions where Search Protect is being spread in the fashion which is far from straightforward. The underhand propagation routine is known to involve third-party software, e.g. BrotherSoft Extreme Toolbar, that includes the bad adware component of which the user is not likely to be notified. These 'mediator' apps can be exemplified by free video downloaders and a variety of other types of multimedia software. Certainly, other products by the dubious Conduit vendor (Community Toolbar, Conduit Apps Toolbar, etc.) are obviously interested parties here, adding the unannounced extension to one's browser in case of install.
Now, what happens if you are unfortunate enough to get attacked by this pest? The add-on appears to impudently take over your Internet preferences, replacing such default values as the browser homepage and the featured search engine with Search.conduit.com. By the way, the above search provider has recently been renamed to 'trovi'. As a result of such hijack, victims will be constantly directed to the affiliated web page, thus being encouraged to use the service they didn't ask for or choose to use. The bulk of the iceberg in terms of the scammers' motivation lies in the scope of online advertising. If you examine the structure of any given results page on Search.conduit.com, it comes to sight that all of them contain an excessively large number of sponsored links both at the top and the bottom. Things like that get well paid for by advertisers.
What makes things yet worse is another possible consequence of Search Protect adware running on one's PC: it may remove some boot sector files (perhaps an unintentional side effect), which in its turn leads to operating system boot problems. This collateral damage is not a frequent outcome, but it's been reported by some users. Also, uninstalling the respective browser extension manually will not address the issue completely. This is why using an automatic cleanup tool along with manual transactions is a recommended way to get rid of Conduit Search Protect – details below.
Search Protect adware automatic removal
Elimination of Conduit Search Protect virus can be efficiently accomplished through the use of reliable security software. Sticking to the automatic cleanup technique ensures that all components of the adware get thoroughly wiped out from your system.
1. Download recommended security utility and get your PC checked for malicious objects by selecting the Start Computer Scan option
2. The scan will come up with a list of detected items. Click Fix Threats to get Search Protect removed from your system. Completing this phase of the cleanup process is most likely to lead to complete eradication of the infection. However, it might be a good idea to consider ascertaining the malware is gone for good.
Remove Search Protect using Control Panel
• Open Control Panel. On Windows XP / Windows 8, go to Add or Remove Programs. If your OS is Windows Vista / Windows 7, choose Uninstall a program

• Look for all apps associated with Conduit Search Protect on the list (Conduit Apps Toolbar, Search Protect by Conduit proper, BrotherSoft Extreme) and click Uninstall/Change option to get those exterminated

Remove Search Protect by Conduit from Mozilla Firefox
1. Get rid of the trouble-making browser extension
• Click Tools in the upper section of your Firefox window
• Select Add-ons on the list
• Click the Extensions tab and search for entries affiliated with Conduit. When spotted, select the Remove option

2. Restore the desired homepage
• Go to Tools and select Options…
• Navigate to General tab and click Restore to Default under Startup section of the interface
3. Delete Search Protect from search engines list
• In the field to the right of the address bar, click on the arrow pointing downwards
• Choose Manage Search Engines
• Click on the Conduit related entry and select Remove
Remove Conduit Search Protect adware from Internet Explorer
1. Get rid of Conduit toolbar
• Select Tools and click Manage Add-ons
• Proceed to Toolbars and Extensions, find Conduit, BrotherSoft Extreme toolbar, etc., and disable the culprit
2. Set the right homepage
• Go to Tools and select Internet Options
• Proceed to the General tab
• Click Use default or type the correct URL in the box
3. Change the search engines list
• Go to Tools menu and select Manage Add-ons
• Click Search Providers
• Highlight Conduit related item on the list and choose Remove option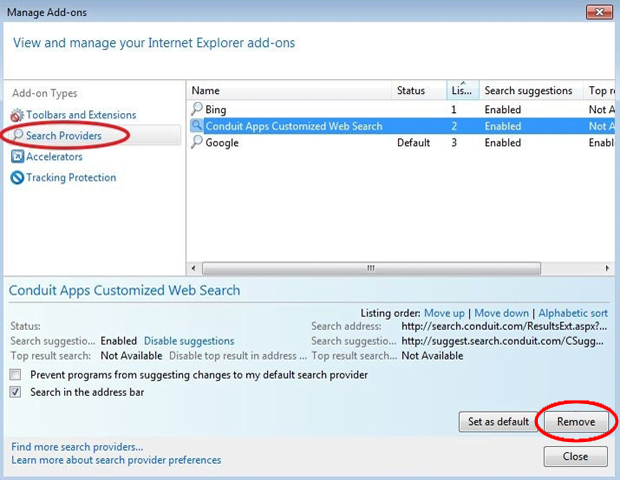 Search Protect by Conduit virus removal from Chrome
1. Uninstall Search Protect toolbar
• Click on the Chrome menu icon in the top right-hand part of the Chrome window
• Go to Tools –> Extensions
• Locate the unwanted extension affiliated with Search Protect adware
• When the malicious item is spotted, remove it by clicking on the trash bin icon next to it
2. Restore Chrome's start page
• Again, click on the Chrome menu icon
• Select Settings
• Proceed to the section named On startup under Settings, select the radio button for Open a specific page or set of pages option and click on Set pages link
• On the Startup pages screen that pops up, find the one that has Conduit in its URL and click X button to the right
• Select Manage search engines within the same interface and pick the search provider to be used by default
Recheck if Search Protect virus has been successfully removed
For certainty's sake, it's advised to repeatedly run a scan with the automatic security software in order to make sure no harmful remnants of this adware are left inside Windows Registry and other system locations